A few months ago, an old highschool friend of mine named Trey asked me, the Wild Heart, about where to sell his parents records in Houston. I, of course told him to go to either Cactus Records on S. Shepherd and Portsmouth st. or Black Dog Records on S. Shepherd.
So I have decided to come up with a list of things you should look at when buying records. I am not one that assesses records regularly, but I do buy records on a semi-regular basis.
Here are some of the things that you need to look at when selling your records. However, one thing you are going to need is a knowledgeable friend who knows about the genres or superfans of the artist.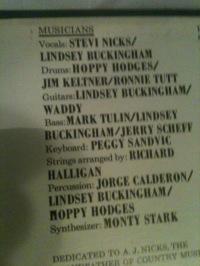 Notice that Stevie's name is misspelled - there is no "e" at the end of her name when there should be.
Misprints: Believe it or not, misprints, goofs, and misspellings will, in this case, work to your advantage when selling your vinyl records. These are mainly manufacturing goofs. A great example of this would be from the Wild Heart's own record collection: an original copy of Buckingham Nicks, an album by Fleetwood Mac members Lindsey Buckingham and Stevie Nicks, who released the album in 1973 prior to their musical union with Fleetwood Mac. In the album's linear notes, Stevie's name is misspelled. A more famous (and funny) example of this would be the Beatles first album released in the US that contained a risque misprint.
Alternate album covers: Alternate album covers can automatically bring up the price of an album tenfold. In my opinion, depending on how rare the alternate album cover is. I would use this rule of thumb: if its an alternate album cover, as in it doesn't look like the album cover everyone knows, then you should charge them more. Take for example CCM artist Amy Grant's 1977 self-titled debut album. It wasn't expected to sell as well as it did considering that Contemporary Christian music was considered a niche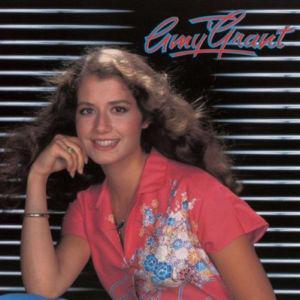 The re-shot album cover for Amy Grant's 1977 self-titled debut album
The original cover for Amy Grant's 1977 self-titled debut album
market and sold only in Christian bookstores. However, the album sold over 50,000 copies and launched her successful career in Contemporary Christian music and later, pop music. Therefore, possibly the original album cover was unappealing for the mainstream market, therefore they shot another album cover and that is what we know today. Either way it is now worth a pretty penny.
Import: If the album is considered an import, as in its from another country, then tack on at least $10-15. If you can remember where you got the album, then you should probably note it. However usually there is a way to tell and it's located on the back of the album. It may say "Germany" or whatever country it is from. For example, if you got a Beatles record in Australia, you can make the buyer pay well for that one.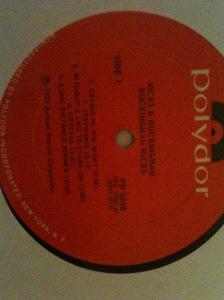 Buckingham Nicks was originally released in 1973 but went nowhere. However, in 1978 after the success of their union with Fleetwood Mac, Polydor decided to re-release the record in 1978. Note that on this album it says 1973, making it an original release.
Year & record label: This is probably the thing you wanna check first. This will tell you if it is a reissue or an original pressing. An original pressing is a good thing, you want this because it will get you more money. Reissues will get you nothing.
Popularity of the artist and the record: This is perhaps one of the most important things to look at. The more popular the artist, the more worth the album will be. One thing I would look at is this: are they in some sort of hall of fame? If they are, it would be safe to say that you can ask for more money. Also, you need to know how popular the record was upon first release. For example, if you have a copy of Synchronicity by the Police, you can sell it for a good price. However, if its something non-legendary such as Heartbeat City by the Cars – then you can virtually give that one away.
And last but not least…..look at the condition of the record. If it repeats or skips on any song, you're better off making it into a DIY project. Don't sell it. People don't wanna buy a scratched record.