The White Lady
by Beth Trissel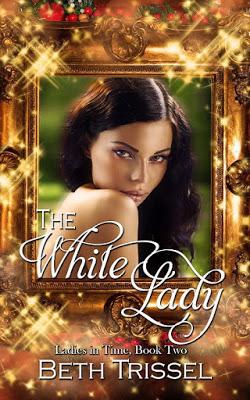 GENRE
:   Ghostly Holiday Time Travel Romance
BLURB:
Avery Dunham has always been ready to follow her friend, time-traveling wizard, Ignus Burke, on incredible adventures. This time, though, she has serious misgivings. It's just one week before Christmas, but she cannot get him to change his mind. The usually cool and collected magic-wielding leader is wholly obsessed by the portrait of the White Lady whom he is bent on rescuing.
Almost as soon as they begin their journey, it becomes clear their mission is a trap.
Avery was right: this adventure is not going to be like any other.
EXCERPT
Shudder. Her Highness sat propped on a chair before the hearth. Those brown eyes seemed to hold a chill when they considered Avery. It must be her imagination. Portraits couldn't change expressions.
Could they?
Goosebumps prickled down her spine, even in her wine-colored wool coat. Despite ice water and a second cup of coffee at lunch, her mouth was dry. She needed a mint, and a heck of a lot more than that for what lay ahead.
Ignus, with Stan's reluctant assistance, had taken the painting off the wall. She'd swear the ghostly woman's entreating gaze fastened onto the youthful wizard. Was there a hint of triumph in her soulful brown eyes?
Yes. No! Paintings couldn't alter their original state. Artwork remained the same.
Doubt crept over her, and alarm twinged. The Weeping Angels in Doctor Who moved nearer whenever you blinked. Granted, they were a fictional race of predatory creatures who only resembled angel statues. But this painting struck her as equally sinister. Never mind it had the appearance of a beautiful woman. The truth lay in her eyes.
REVIEW
4 STARS
I haven't read the previous book so it took me a few pages to really get into this story.  This is an unusual historical time travel with a fine blend of old-timey nostalgia laced with a frightening entity that is hell-bent on revenge and wreaking havoc. Told from Avery's perspective, the convoluted ghost story kept me enthralled and wondering what would happen next.
 Sometimes, it was a little difficult keeping all the characters straight in my mind, but I enjoyed unwrapping the ghostly mystery. Beth paints the setting with plenty of descriptive narrative making it easy to picture the surroundings and activity taking place.  The characters are fully realized, as well, with individual characteristics and quirks.  The story flows smoothly and quickly enough that it never feels bogged-down or stagnant.  With its gothic tone, Christmas traditions appropriate to the period, and tight-knit fellowship of dedicated and resourceful time-travelers, this book is a holiday pearl anyone can enjoy.Reviewed by Laurie-J

AUTHOR Bio and Links: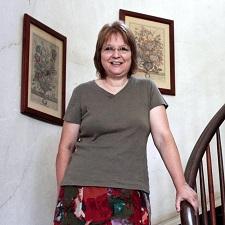 Married to my high school sweetheart, I live on a farm in the Shenandoah Valley of Virginia with my people and furbabies. An avid gardener, I grow herbs and heirloom flowers and use them in my stories. The rich history of Virginia, the Native Americans, and the Scots-Irish are at the heart of my inspiration. My English/Scots-Irish ancestors were among the earliest settlers in America. I write historical romance set in the colonial frontier (The Native American Warrior Series), and the American Revolution (The Traitor's Legacy Series), colonial American Christmas romance (A Warrior for Christmas) Georgian England romance (Into the Lion's Heart, the time and place of Poldark). Some of my historicals have ghosts and paranormal in them. I also write Young Adult shapeshifter, fantasy romance (The Secret Warrior Series), and New Adult paranormal time travel, time slip romance to the Scottish Highlands, the American Revolution, the Civil War, WW1.. (My Somewhere in Time and Ladies in Time Series.)
The White Lady
is available in Kindle at:
https://www.amazon.com/White-Lady-Ladies-Time-Book-ebook/dp/B075XBTY1J/
And in eBook from all major online booksellers.
Author Beth Trissel's Social Links:
Blog--One Writer's Way:
https://bethtrissel.wordpress.com
Facebook:
Author Beth Trissel
Twitter:
https://twitter.com/BethTrissel
Amazon Author Page where all my books reside:
https://www.amazon.com/Beth-Trissel/e/B002BLLAJ6
GIVEAWAY
Beth Trissel will be awarding a $20 Amazon or Barnes and Noble GC to a randomly drawn winner via rafflecopter during the tour.
a Rafflecopter giveaway