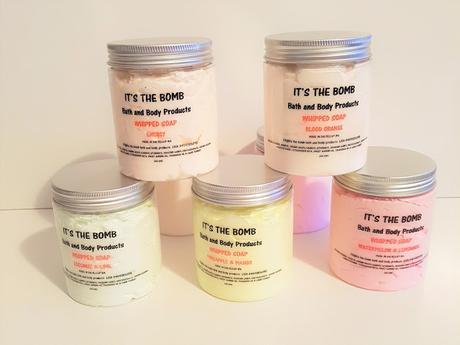 My favorite soap formula by far is whipped soap. I love everything about it, the fragrance, the texture and how lovely it feels to use. Unfortunately whipped soap isn't very easy to come by and it's usually quite expensive.  When one of my friends started making bath and body products I asked her to make a whipped soap and she did!
I love the light texture, the creamy texture and how easily it melts. The other thing I love is that unlike bar soap, it doesn't go soggy and the boys don't try to smoosh it all down the drain. I purchased the Energy scent which is amazing, so fresh and citrusy, just what I need first thing in the morning to wake me up. It'd be a great candle scent too (hint hint Lisa!)
They are also a great shaving soap, which I'm not telling Tiger because he'll steal my pot. I'm pretty sure he'll figure it out soon enough though, he always checks out anything new that appears in the shower.  
Unlike other whipped soaps I've used, the It's The Bomb ones are great value. I only need to use a tiny amount (about a 50 cent piece) so a tub will last for ages (as long as I manage to keep it away from Tiger and the boys). When I've used whipped soaps in the past they're been very light which meant I needed to use a lot and a tub would only last me around a month.
It's The Bomb Bath and Body Products Whipped Soap costs $15 for a 200 gram pot. If you worked that out to a cost per use, it'd probably be about 1cent per wash.
You can purch

ase It's The Bomb products from their Facebook page