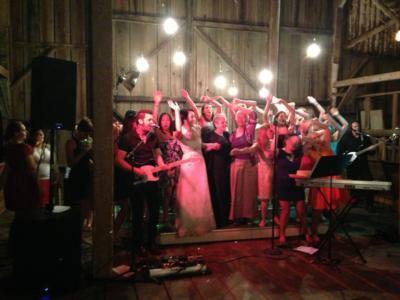 The Rolling Heads are sure to move some feet at your wedding!
If Billy Joel speaks to your soul and AC/DC still has you Thunderstruck, why not make your wedding playlist equally rockin'? Classic rock & roll hits, as well as newer rock-style songs, can create a reception atmosphere that all guests will enjoy.
To bring you some playlist inspiration, we have reached out to our own live rock band and cover band members. They've given us insight as to the most popular classic rock songs, some newer "must-haves" and some beautiful tunes to consider for your first dance.
Most Popular "Classic" Songs
Don't Stop Believin' – Journey
Brown Eyed Girl – Van Morrison
Free Bird – Lynyrd Skynyrd
You Shook Me All Night Long – AC/DC
Sweet Child O' Mine – Guns N' Roses
Most Popular "New" Songs*
*Our members mentioned that although these songs might not necessarily be true to traditional rock standards, they still have some rock & roll elements!
Get Lucky – Daft Punk
Moves Like Jagger – Maroon 5
Blurred Lines – Robin Thicke ft. Pharrell & T.I.
Ho Hey - The Lumineers
Lonely Boy – Black Keys
When asked for the most popular requested first dance song, John of The Fabulous Philadelphia Mojo Kings Dance Band informed us that they have never repeated a first dance song!  Ted of the Rolling Heads agreed: "We've played at least 60 weddings in the last few years and I'm pretty sure there hasn't been a repeat yet.  Couples seem to value originality." What our members did share are some beautiful and unique songs they have  been asked to play among their wedding performances…
First Dance Song Ideas
Marry Me – Train
You Are the Best Thing – Ray Lamontagne
Love is a Verb – John Mayer
If I Were A Carpenter – Tim Hardin, covered by Bobby Darin
Never Gonna Be Alone – Nickleback
What are some trends our rock and cover band members have noticed? Despite the rising popularity of modern pop music, UpTown Celebration is amazed at the amount of guests in the 20-something age group who LOVE rock classics. This goes to show that rock is still a fan favorite among all guests!
Another tidbit we found interesting is that more and more couples are hiring live musicians for their weddings, instead of just DJs. "The feedback we have gotten is that live music adds a certain memorable quality that is right in line with the atmosphere our clients want to create for their special day," shared Melonbelly Acoustic Guitarists. Don't be afraid to make a band your main entertainment!  Bands like One Wild Nite know that weddings are personal, so they're prepared to be flexible and incorporate the tunes you're looking to hear.
No matter what kind you choose, GigMasters can connect you with the perfect entertainment for your wedding. Get started here!