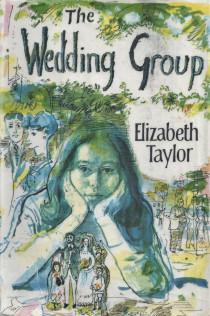 If you've been joining in the monthly readalongs for Elizabeth Taylor's Centenery Year, you'll know that October was the month for The Wedding Group. My own review of this appeared here at the beginning of the month, and since then there have been several other reviews of what I described as "this strange and rather serious work". It's been fascinating to read the different perpectives people have taken of the novel. Laura (who is hosting this whole project) was interested by the social context of the novel, which was written at the end of the 1960s. Darlene loved "the deliciously claustrophobic houses, spot on characterization and meticulous observation". There's a thoughtful review of the novel on Leaves and Pages, where it scores 7.5/10 for being a little stilted and chilling. Heavenali, while feeling it was not one of ET's best, still enjoyed it tremendously, and  Kaggsy's very full review makes a number of really perceptive points.
All in all, there seems to have  been a general feeling that this was not in the top echelons of ET's work, but that she is a superb writer who is always well worth reading. Perhaps not the novel to start with if you are already an admirer of Taylor, but, like the other reviewers, I  am very glad to have read it and found a huge amount to enjoy.
If you too have read and reviewed the novel, do let us know in the comments, and apologies for not including a link.