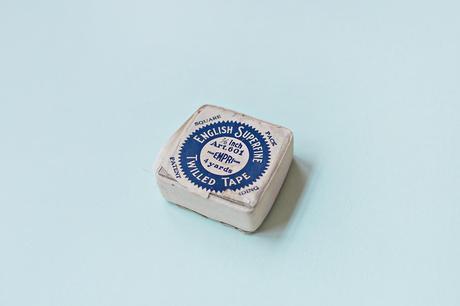 It seems like forever since I posted about #thewaysewingusedtobe. Oh wait, that's because it has!
Instead of moving forward and talking about the next vintage item to highlight, I want to go back to the beginning. Why I started the series. I'm reevaluating mostly because of a podcast I recently listened to that made me rethink and reflect. The podcast was History and Culture in Art & Design: Veronica Corzo-Duchardt on After The Jump.
Veronica's grandfather was a Cuban exile living in the United States, and when he moved, he was allowed to bring only a few objects. Beginning in 2011 as a daily blog and weekly print series, Veronica documented 149 of his items and compiled them into collection of 29 limited edition screen prints. The Neche Collection not only retells the story of her grandfather, Neche Eugenio Hadad, but also gives a new function to an otherwise obsolete object.
That's what we do when we upload our photos. We are giving bygone sewing notions a new life. They get another moment that is both nostalgic and reverent. Sigh. Each caption highlights impeccable package design, the history of that notion, the person who once owned it and in some cases, a little bit about you. Sure, there are arguments why this attention to packaging isn't used anymore. Today, if packaging is excessive, it's considered wasteful. Customers claim that manufacturing and labor involved are harmful to the environment. Is packaging even needed if it gets thrown away? I get it. My belief is that creating for the sake of beauty isn't always wasteful. In your own sewing, I'm sure you've made something that was just for fun… just for the look. Was that wasteful? Even if you never wore it, I'm sure you learned something from the process. How to insert a zipper? How to face a hem? How to handle silk better?
Adding to this, I think indie companies have done a great job to combinevsimple, modern design with environmental awareness. Way to go indies!
A byproduct of #thewaysewingusedtobe  – it's contagious! When I show people photos, they dig into their closets, attics and basements to find their mother's, grandmother's, aunt's and even uncle's old goodies. I am now gifted vintage treasure on the regular. I've amassed quite the collection!
So, thank you to everyone who has posted to Instagram. Can you believe that there are over 300 images in the album (see below)! I hope we can maintain the momentum. Keep grammin!
If you're in the market for old sewing notions, search "vintage sewing lots" on Ebay. It's a gold mine.
I also sell #thewaysewingusedtobe prints on Society6.