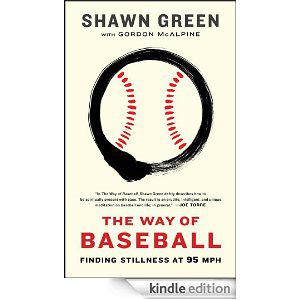 I just completed reading "The Way Of Baseball: Finding Stillness At 95 MPH" by Shawn Green, the former All-star outfielder who recently penned this tome about his life in baseball.
I never would have figured Green for writing a book about his time in baseball, but I found it an interesting read. He comes across as a very intelligent and thoughtful man who cared about the game and the fans.
The book is a sports memoir, but it's also a spiritual journey that Green takes his readers on. He clearly doesn't get caught in many of the trappings that the average baseball player gets into. His family means a lot to him (and that's why he retired at the relatively young age of 34).
He begins his journey as a struggling part-time member of the Toronto Blue Jays in 1997, and he's not happy with his role or manager Cito Gaston. But he takes action, and working with a batting tee in the cage at the SkyDome turns into something of a transcendental experience for Green. The simple act of repetition helps Green take the next step, and he becomes an All-Star outfielder and one of MLB's best hitters.
He moves to his home in Los Angeles with the Dodgers and he struggles with a big contract and bigger expectations. His personal life began to struggle too. But a trip to Japan with MLB All-Stars transforms his life, and he rediscovers his "Zen."
Green touches on his being Jewish, and the pressures that come with being a star of that faith in Los Angeles, with comparisons to the immortal Sandy Koufax. He talks of the struggles and how he overcame them.
By the time he plays in Arizona and later with the New York Mets, Green is clearly a different man, content with life and just enjoying the ride. He talks of his relationship with longtime teammate Carlos Delgado, and how he was the first person to let him in on his retirement plans.
Shawn Green is clearly a very grounded individual, and the book clearly reflects that. Baseball was clearly more than just a sport to him, and "The Way of Baseball" is a quick but interesting read from a man who enjoyed his time in baseball, but it clearly wasn't his whole life.