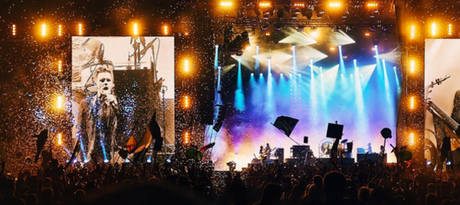 You could feel it in the air... an electricity flowing through nearly 40,000 people at the WayHome main stage just waiting. And waiting. 10 minutes, 5 minutes, 2 minutes before the set they were ready to explode.
And when The Killers came on stage, they did. And when the Las Vegas rockers kicked off the set with Mr. Brightside the crowd got louder in a mix of cheers and yells and screams. It was, in a word, BANANAS - and maybe the strongest opening number we've seen in a long, long time.
Note: There was no photo opp in the pit for the set, so we've scrolled through Instagram to find some pics to share with you all. Give them a like and some love to the fans that snapped them!
This is where I stop and tell you that I fanboyed hard during this set. I screamed and I cheered and I danced throughout the set and my smile was big, like I meant it, and my heart was full of happy.
In all honesty, I don't have a lot of notes from this set, but I'll tell you what I remember...
‣ I remember the smile on the face of Brandon Flowers when thousands of music fans in a field in Ontario sang his songs for him and to him.
‣ I remember the dancing in the crowd as everyone reacted to their personal favourites from The Killers setlist.
‣ I remember the boom of confetti at the end of the set as the boys took a breather before their encore.
‣ I remember Ronnie getting in the last word of the night, making us laugh with "tell your friends".
‣ I remember how excited I was for the breakdown in All These Things That I've Done when everyone joined in to sing I've got soul but I'm not a soldier.
‣ I remember thinking to myself, "I've waited a long time for this".
‣ I remember Brandon's words in the encore... "We flew over the desert and across the plains, we made it to the east coast and we crossed the border and we came to this beautiful place, and you didn't think we wouldn't Play Jenny Was A Friend Of Mine, that would be silly." or something like that.
The Killers Setlist, WayHome 2016
⍟ Mr. Brightside
⍟ The Way It Was
⍟ Smile Like You Mean It
⍟ Confessions Of A King
⍟ Human
⍟ Somebody Told Me
⍟ Glamorous Indie Rock And Roll
⍟ For Reasons Unknown
⍟ Can't Help Falling In Love
⍟ Read My Mind
⍟ Runaways
⍟ All These Things That I've Done
ENCORE
⍟ This Is Your Life
⍟ Jenny Was A Friend Of Mine
⍟ When You Were Young