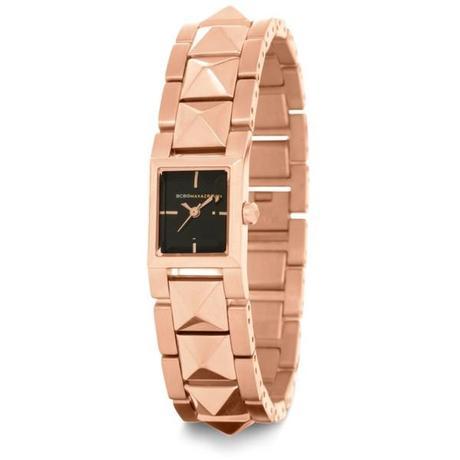 I've been looking and looking.  And for once in my life, patiently waiting.  I have been waiting for a watch that I couldn't live without.  Tall order.  I know.  But, I finally have it on my wrist.
I was definitely obsessed with all of the Michael Kors watches for a long time.  But I came to the conclusion that while I love his watches, I personally need something a little more dainty because I have small wrists and hands.  I was perusing the BCBG website when I found it.  The rose gold pyramid studded watch.  The heavens opened and the sun shone perfectly upon me and my dog, Slate, while we relaxed on the couch.  Ok, that may be a little much, but that's what it felt like to me.
I absolutely love it.  It is edgy, dainty, unique and classy all at the same time.  I couldn't find it at any department stores, which means that not everyone and their mom will have one.  I kind of aim to be different, I guess.  I want to have things that draw the eye toward it and people wish they had found it!  Well, now you can steal my style, I don't mind.  The watch is $195 with free shipping on orders over $150!  The only bummer is that you have to pay extra to have it fitted at a local watch store.  If they carried it in a nearby department store, I could had that done for free.