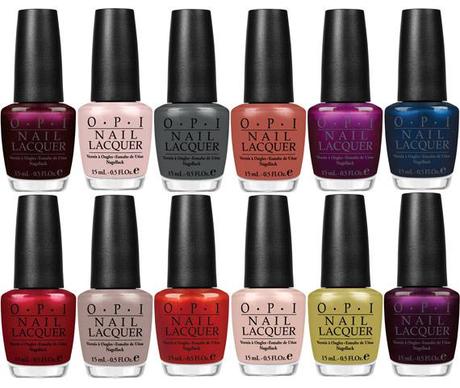 Copyright OPI Collection
Each collection of OPI nail polish is super exciting.  I love the names they come up with.  What an awesome job would that be?  Plus, I love wearing the darker nail polish in fall.  Don't know what hues work for your skin tone?  Go with a color that imitates your skin's undertones.  Yellows are goon for darker skin tones.  Looking for the most flattering tone on everyone?  Berlin Done There Done That (taupe) is a great way to try a trend with little to no commitment.  A list of all of the OPI Fall Collection colors:
Germany by OPI includes the following shades:
Don't Pretzel My Buttons
 honey-beige color.
My Very First Knockwurst
 rosy-nude.
Berlin There Done That
 taupe.

Don't Talk Bach to Me
 bright lime-yellow.
Nein! Nein! Nein! OK Fine!
 black-olive.
Unfor-greta-bly Blue shiny blue.
Every Month is Oktoberfest
Prost! sweet plum
Suzi & the 7 Düsseldorfs 
bright purple.
Deutsch You Want Me Baby?
 red-orange.
Danke-Shiny Red
 ruby red.
German-icure by OPI
 burgundy.
Schnapps Out of It!
 mauve.