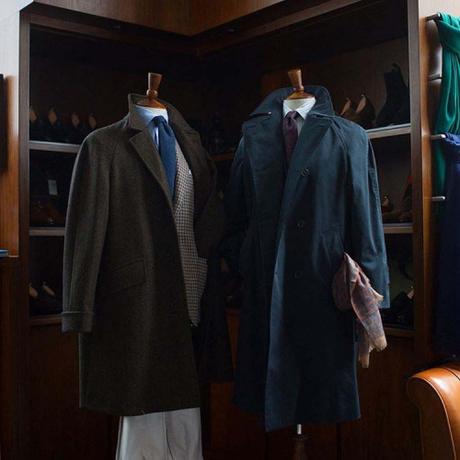 I love a good, simple idea. Cohérence is a new Japanese label that's reintroducing classic outerwear worn by previous generations' style icons, artists, and intellectuals. Think: less Steve McQueen and Cary Grant; more Marcel Duchamp and Albert Camus. 
The designer behind the company, Kentaro Nakagomi, draws a lot of inspiration from the kind of things that got me into tailored clothing in the first place. He's less about regions – say, American vs. British style – and more about cultural movements. "I love Dada and Surrealism, jazz music, writers connected to the Lost Generation, and New Wave cinema. Along with the art and culture, there were also the clothes – the heavier fabrics and fuller silhouettes. They were classic, but also modern at the same time." 

Cohérence isn't about strictly reproducing the past, but it's more than just vaguely inspired by it. The coat designed after Le Corbusier, for example, features the same lapel and raglan sleeve details seen in an old photo of the Swiss-French architect. Similarly, a photo of Jean-Paul Sartre inspired the shearling-trimmed, shawl-collar coat seen below (except, whereas Sartre wore a single-breasted model, Nakagomi designed his to be double-breasted – an improvement, I think). 
The main difference, however, is in the fabrication. Cohérence takes traditional materials – such as Melton wools, chevron tweeds, and cotton twills – and builds in a bit of stretch and breathability. "I try to make functional materials from the past a bit more sophisticated and modern, but in a way that doesn't lose the essential elements that made them beautiful in the first place," Kentaro says. Again, not necessarily a technical line like Herno, but also more modern than a strict reproduction. 
This season's fall/ winter collection is the label's debut, which you can find in the US at The Armoury (they have raglan sleeve topcoat that I think looks particularly good). For next season, Kentaro tells me he has some new jersey materials in the works, as well as two new designs: a Balmacaan inspired by jazz musician Sidney Bechet and a military field jacket inspired by French writer Boris Vian. Both will carry that "beautiful masculine feeling," as Kentaro likes to put it, "where the silhouette will be full and glamorous." A much-welcomed change for people who are tired of the skimpy coats that have dominated men's fashion for so long.