It's Time for The Award Ceremony.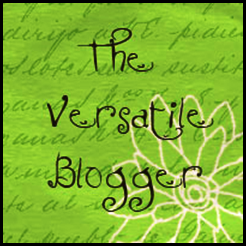 Thank you so much leo paw of bigbitz fame (
http://bigbitz.blogspot.com/
) for nominating me for the awardits an honor for me to recieve this award from a great blogger like you and it means alot to me ps its myfirst such nomination..am soooooooo very thrilled:) there are 5rules to be followed along with the nomination which are given below
1. Nominate 15 Fellow Bloggers
2. Inform the Bloggers of their nomination
3. Share 7 random things about yourself
4. Thank the Blogger who nominated you
5. Add the Versatile Blog Award picture to your blog post
I feel honored to pass on the award to 15 wonderful fellow bloggers whos posts i have aalways loved to read and have really enjoyed reading the nominations are given below1.Readittt for 
Readitt (the e magazine)
2.Sagittarian for  
What Matters Most
3.Saru singhal    for
Words
4.Narcissist for 
Diary of a Narcissist
5.Apoyando for
Striking the chords..
6.Kitty for
Kitty's Pitara
7.Mn hopkins for
Stranger In A Strange Land
8.Rahul bhatia for
Rahul's Blog and collections
9.Deepak karthik for

WhateveR iT TakeS !!
10.Rob for

Wind Rose Hotel
11.Sujatha sathya for

Conversations
12.Priyanka mohanty for

Airy Nothing
13.Ellie great for

Blogger (Blogspot) - elliegreat
14.Shashi for

Blogger (Blogspot) - shadowdancingwithmind
15.Simplified blogging for

SB
NOW ITS TIME FOR 7 RANDOM THINGS ABOUT ME
1.I am scared of traveling in metros i fear that i will get lost
2.I am a absolute loner dont have too many friends
3.I am the worst cook in the world you can imagine and my daughter is the real cook whos recipes you read
4.Television gives me a headache
5.I am completely self established and independent
6.I live in a world of my own a fantasy world when i write my poetry
7.I can sleep 24hours a day if given a chance:p
Now its time for me to inform all my fellow bloggers who i have nominated,keep blogging you all.
and a biiiiiiiiiiiiiiiiiiggggggg thank you to leo paw