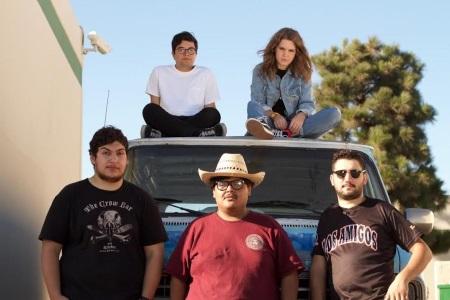 The Venisons embraced old school sounds on their self-titled debut EP. Touching base with Loaded-era Velvet Underground (Water) and psychedelic bubblegum pop (Blackhole) the quintet from Santa Ana, CA bring a touch of Spring to the speakers. Eduardo Rivas, Jr sounds a bit like a indie pop version of Rennie Sparks from the Handsome Family and Lindsay Hopkins has the relaxed delivery that is associated with the hippies that took over Laurel Canyon back in the day, most notably when she goes folk during Heart.
Viejo has zero change of being played at the Trump residence, but this is how the Modern Lovers would have sounded like if they had been Mexican. The Venisons is the kind of band you want to hear play on the porch for hours on end. Superb sunset not included.

The Venisons:
Julio "Jules" Barajas: guitar
Lindsay Hopkins: vocals
Eduardo Rivas, Jr: vocals
Ed "ID" Barajas: bass
Steven Guillen: drums
The Venisons is a self-released EP. Free download from their website.
Tracks:
Water
Viejo
Heart
Blackhole