TAKEAWAY: No matter what language or alphabet is involved in the design changes to a newspaper, website or tablet, there are some essential, universal values that prevail, as our recent work shows.
Three design essentials, regardless of language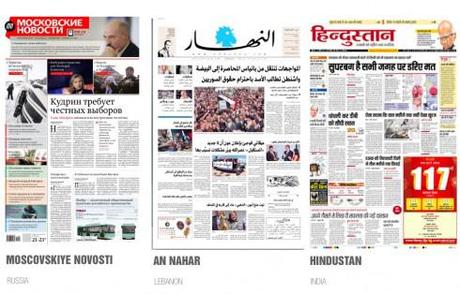 Front pages of Moscovskiye Novosti (Russia) in Cyrillic; An Nahar (Lebanon) in Arabic; Hindustan (India) in Hindi

With the launch of three recent of our projects, all in non Latin alphabets, I have received dozens of emails from across the globe with one interesting question: how can you design a publication using an alphabet that you don't know well.
Indeed, a valid question, but one that I usually answer the same way: there are some universal values in terms of design that apply to all, and that provides me with a good start.  Second, one cannot do these projects without having a good copilot who understands the language and the characters used to communicate. Third, it has been my long standing philosophy to work very closely with the local art director.  If all these requirements are met, then the rest is a matter of following the steps one would follow in any redesign/rethinking process.
What are some of those universal values that apply to any publication, regardless of language?
Make the information easy to find.
Make the type easy to read.
Make it attractive.

Moscovskiye Novosti of Russia uses the Cyrillic alphabet. Of interest: Cyrillic became the third official alphabet of the European Union, following the Latin and Greek alphabets.
An Nahar of Lebanon is in Arabic—
Hindustan of India is in Hindi—-
I have personally also worked with the Greek alphabet as we redesigned Athen's Ta Nea,  the Hebrew alphabet for our collaboration with Israel's Haaretz, and Malayala with India's Malayala Manorama

More to come
TheMarioBlog post #753