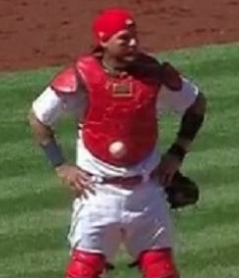 A few months ago I shared a photo that was circulating on social media which appeared to show a "dark substance" on the shin guard of a Major League catcher.  I implied that it was pine tar to help the pitcher.  I'm sure some people were not convinced.  To see that post and the photo, click HERE.
Today is Part 2.
Take a look at the photo to the right of Yadier Molina and the video below that shows what happened. (NOTE: YouTube tends to take this type of video off their site rather quickly so it may not be there when you read this.  That's why I added a photo too.)
Now … how do you suppose the ball stuck to his chest protector?  Did the law of gravity cease to exist at that very moment.  Of course not.  It's pine tar or something else that is extremely sticky.  So, how did it get there and why?
Gee, I wonder …