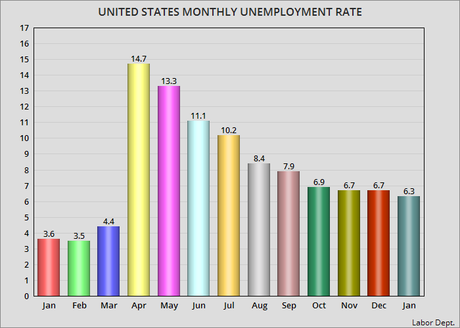 The Labor Department has released its
unemployment statistics
for the month of January. It showed the unemployment rate dropped to 6.3%, even though only 49,000 jobs were created during the month. The drop was mainly due to the civilian workforce shrinking by about 406,000 workers.
The 6.3% rate is the last of the Trump administration. It was about 1.5 points higher than the 4.8% rate in January of 2017 -- the final number of the Obama administration. The current rate will not drop significantly until the COVID-19 pandemic is controlled. Fortunately, we now have an administration that is taking the virus seriously.
Here are the relevant statistics for the month of January.
SIZE OF THE CIVILIAN WORKFORCE:
160,161,000
OFFICIAL NUMBER OF UNEMPLOYED WORKERS:
10,130,000
OFFICIAL UNEMPLOYMENT RATE:
6.3%
DEMOGRAPHIC PICTURE OF OFFICIAL UNEMPLOYMENT:
Adult men...............6.0%
Adult women...............6.0%
Teens (16-19)...............14.8%
Whites...............5.7%
Blacks...............9.2%
Asians...............6.6%
Hispanics...............8.6%
Less than HS grad...............9.1%
HS graduate...............7.1%
Some college...............6.2%
Bachelor's deg. or more...............4.0%
NUMBER OF MARGINALLY-ATTACHED WORKERS (Unemployed but not counted):
1,917,000
MORE REALISTIC NUMBER OF UNEMPLOYED WORKERS (official + marginally-attached):
12,047,000
MORE REALISTIC UNEMPLOYMENT RATE:
7.5%