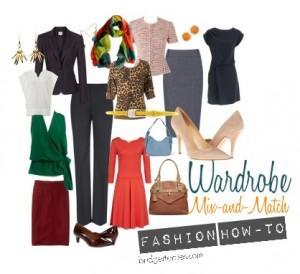 I have gotten multiple requests for advice on mix-and-match fashion and tips on a creating a streamlined capsule wardrobe.  I've wanted to do a blog on this topic for a while but knowing what an undertaking it would be I had to set aside a good amount of time for this task.  Be prepared, this is a very long and extensive post.  However, if you read it through you should glean all of the methods and tips I use with my clients so that you can learn how to get more use out of the clothing in your closet, figure out how to use what you own more effectively and buy less and wear more.  In this post, I will be focusing my advice all around a work wardrobe.
Base, Accent, Pop
Building a mix-and-match wardrobe and a successful, finished outfit is a three prong approach which I call the Base, Accent, Pop Formula that I created when helping clients put outfits together.
The Base
The base is the foundation of an outfit, and where you begin.  These pieces are what I all your hard pieces.  Hard pieces can be a suit, a pair of pants, a dress or a pair of jeans.  Typically, these pieces are not novel, they are classic, often neutral in color (but they don't have to be) and timeless.  They are your base because they can easily be added to.
Examples of Base Pieces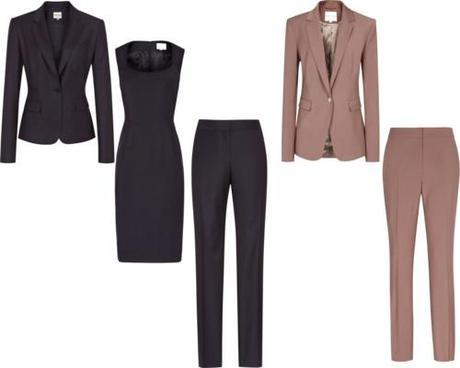 Suits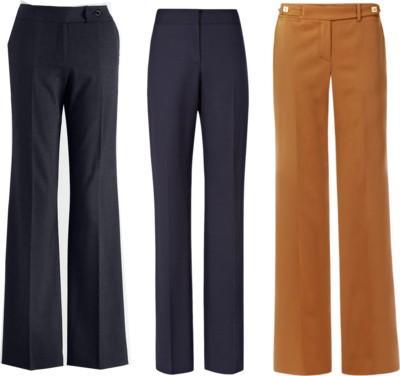 Tailored Pants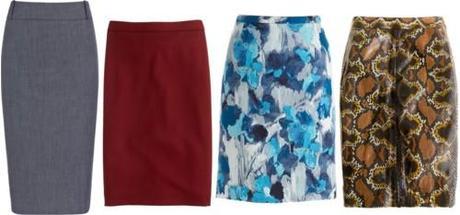 Skirts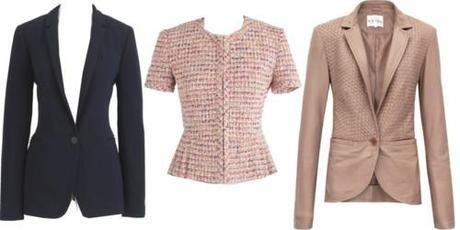 Separate Blazers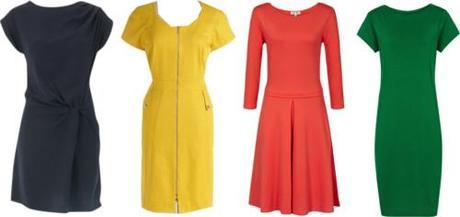 Dresses  
Your base pieces may vary depending on your profession and personal preferences.  For example, I have one client who loves wearing dresses and doesn't need to wear suits.  For her, the mix-and-match wardrobe we created together has more dresses and only one suit, while another client of mine has more of a balance, like you are seeing here.   The base pieces you purchase should be dependent on your work environment and personal preferences.  However, keep in mind, if you learn how to mix-and-match your clothing you don't need all that much.   The other important thing to keep in mind with mix-and-match fashion is variety.  Nobody needs three black suits, for example.  If you have one you can move on and add other colors.  A lack of variety is the greatest reason I find that most women can't mix-and-match their wardrobes.
 The Accent
Now it is time to move into the accent pieces.  Accent pieces are what you will wear with you base pieces and are usually tops, cardigans and layering pieces that you can wear underneath your suits, jackets and cardigans.  Like your base pieces, you need variety.  While your bases pieces are typically heavy in neutrals, your accents can be a mix of color and neutral shades.  The beauty of a more neutral base is that any color you can wear with black you can also wear with any other neutral shade.   While many women know this, this simple fact can often be the biggest eye opener for a women who learn this.  Suddenly, a navy suit gets more wear because it can be worn with colorful tops or the thought to wear burgundy with camel never occurred to them.
Examples of Accent Pieces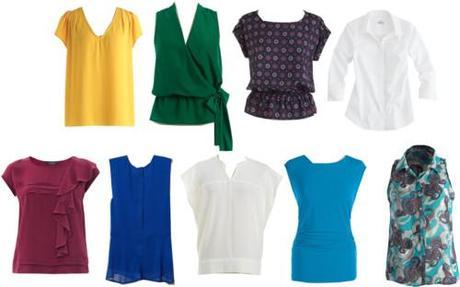 Tops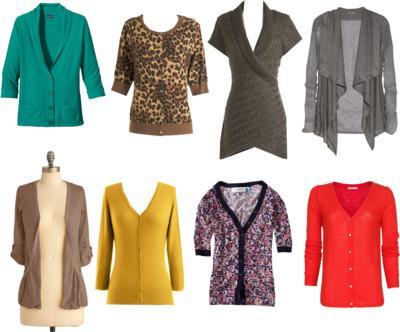 Cardigans and Knits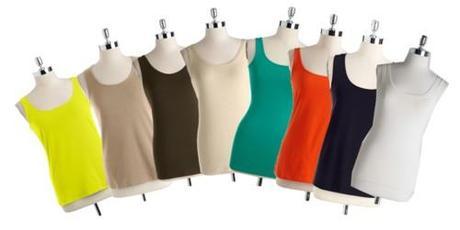 Colored Tanks 
These are just some examples of the types of tops you can have in your closet.  Like I said, the beauty of a neutral base is that you can purchase any accent colors based on personal preference and work environment.  What is important, however, is variety.  You don't need multiple items in the same color.  The reason I chose so many tanks is that I think it's helpful to have a few one hand as layering pieces under cardigans and jackets and like to have all the neutral bases covered plus a few additional colors.  They're just easy to grab and don't take up a lot of space.
The Pop
The pop part of this method requires a bit of explaining because this is part that I think most women neglect and the reason most women are bored to tears in their wardrobe and feel like they have nothing to wear.  The pop is crucial!
Pop pieces are your jewelry, your scarves (if you like scarves), belts, your shoes, your handbags, and those small details that go a long way.  The pop is usually purchased last when I shop with clients because the pop part of a wardrobe is only as useful as how well it coordinates back to the rest of the wardrobe. What you want to think about when buying pop pieces is your accents and the colors in your base pieces.
Looking at the base and accent colors in the pieces I've used above, there is a lot of blue, yellow, burgundy, green, coral and burgundy.  Therefore, it would make sense to purchase pop shades in these colors.  To avoid looking too matchy-matchy, accent colors can also complement your base and accent shades.  You don't have to purchase pop colors in the exact same shades in your capsule, you can also think of tonal colors and universal shades, like green and yellow, for example, that can add some subtle pops to an outfit.   Lastly, I also recommend that you purchase pop pieces in gold and silver, just to have on hand in a pinch.  In some cases you will want to keep your pop pieces understated and having a few interesting pop pieces in these metallics will go a long way, as will having some pieces in more neutral tones.
Examples of Pop Pieces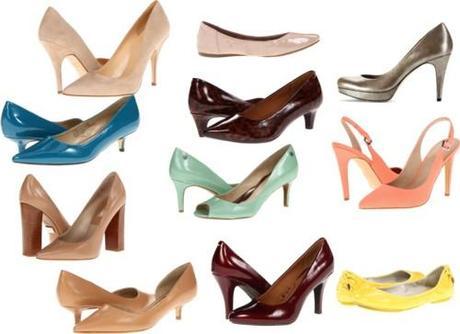 Shoes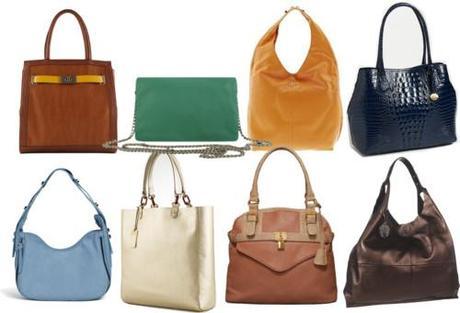 Handbags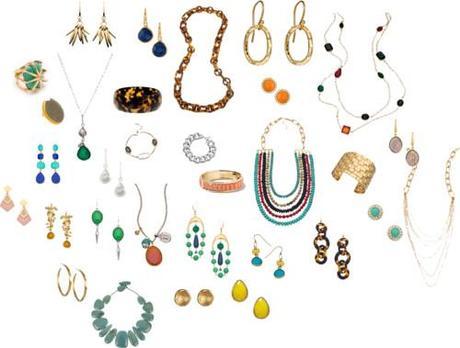 Jewelry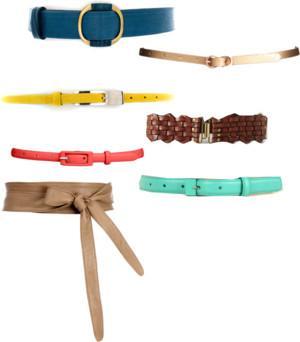 Belts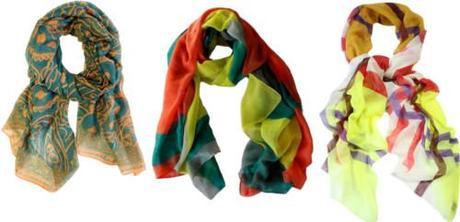 Scarves  
Before we move on, I want to address handbags because, invariably, I know I am going to get feedback from someone telling me they don't like to change their handbag everyday.  Firstly, having variety in your handbags does not mean you have to change your bag everyday.  If you have the right handbags you can go for days, even weeks without ever changing.  However, in cases where you do want to change your handbag, the only way to do this is to have several available.  Regardless of whether you are buying two handbags or 16 handbags, you still need to be mindful of what you own before you buy another one.  Again, nobody needs five black handbags.  If you have one that covers your needs, move on.
I also want to address the amount of tan shoes I used.  Tan is such a universal and versatile color for work and I like to have varying heel heights and styles in a capsule.  If you don't need that many you can swap out for shoe colors you like.  A gold metallic pair of shoes, for example, can be a workable replacement, yet, for the intent of the examples I am giving here, a metallic pair of shoes don't work in a more corporate environment.
Mix-and-Match Outfits
Now that I've explained the importance of the three-pronged Base, Accent, Pop formula, it's time to create outfits.  Using only the pieces above, I put together over 40 outfits, and I could have easily created more.  Yes, it is possible to create enough mix-and-match looks using only these pieces to last you an entire year.  However, it doesn't matter how large or streamlined your closet is, if the pieces don't communicate and work with each other you will never be able to create a mix-and-match wardrobe.
Taking time to create outfits is essential because it allows you to see what you may be missing in your wardrobe to make it complete and will help you become more purposeful with your shopping.  An outfit session is always part of my work with clients so that they can not only get the maximum use out of what they own but so they know where their exact needs are.
Are you ready?  Here are 42 outfits using each base piece three ways!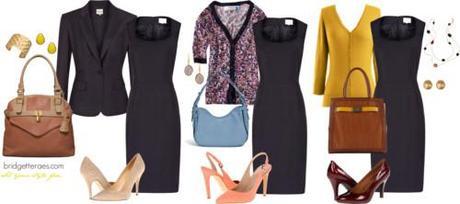 Mix-and-Match Work Looks by bridgetteraes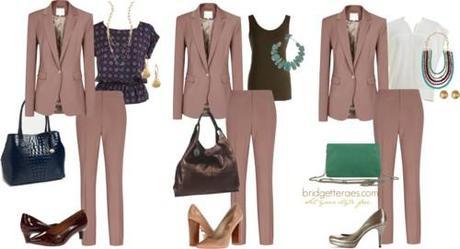 Mix-and-match work outfits by bridgetteraes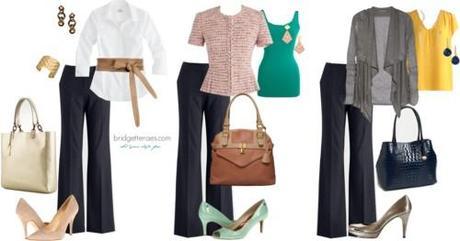 Mix-and-match work looks by bridgetteraes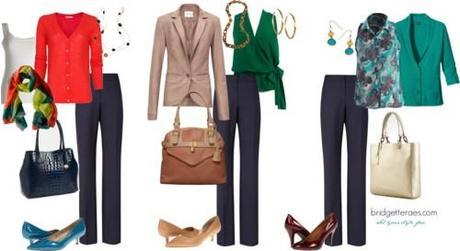 Mix-and-match work outfits by bridgetteraes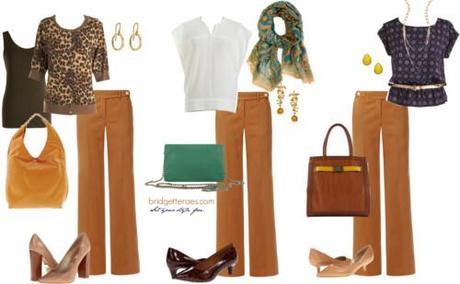 Mix-and-match work outfits by bridgetteraes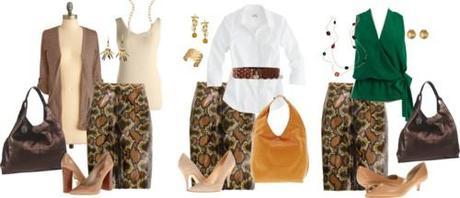 Mix-and-match work outfits by bridgetteraes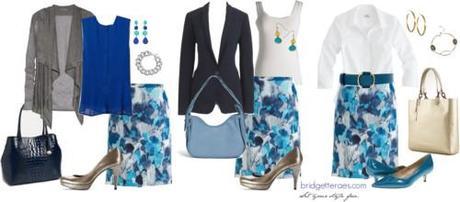 Mix-and-match work outfits by bridgetteraes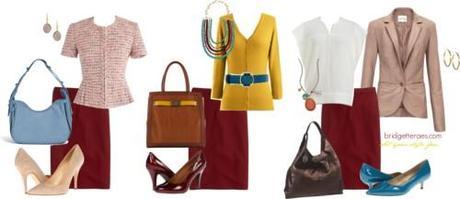 Mix-and-match work outfits by bridgetteraes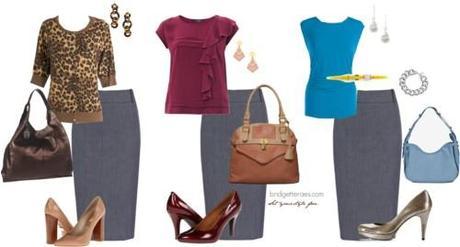 Mix-and-match work outfits by bridgetteraes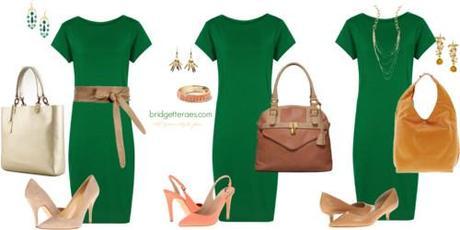 Mix-and-Match Work Outfits by bridgetteraes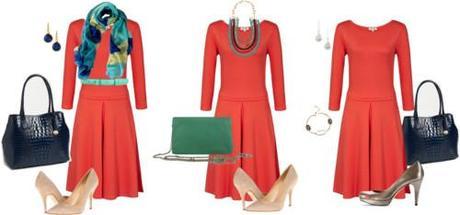 Mix-and-match work outfits by bridgetteraes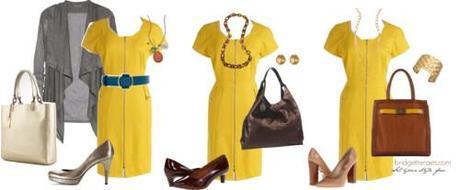 Mix-and-match work outfits by bridgetteraes  

Mix-and-match work outfits by bridgetteraes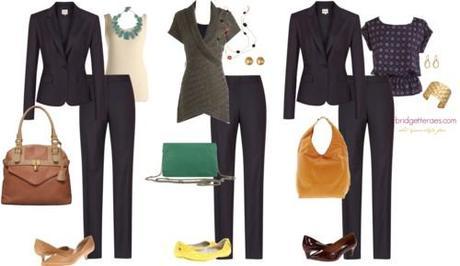 Mix-and-match work outfits by bridgetteraes  
Oh, and for what's it worth, I never used black once.