Need help finding the ultimate
black
eyeliner? '
Au Revoir' panda eyes!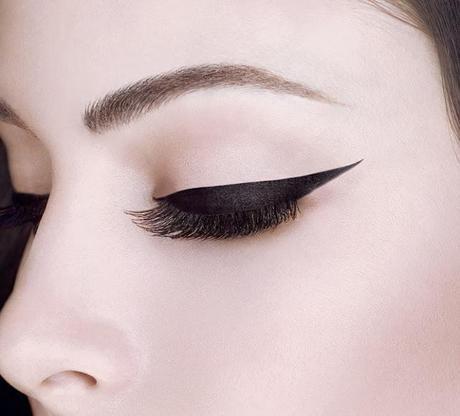 Eyeliner is something that I honestly cannot live without, never mind how much I change and experiment with different looks I always have to incorporate an eyeliner of some type or color into my make-up look. Without it I personally don't feel like me! 
Funny how one item of make-up can change not only how we look but also how we feel. Even applying some black eye kohl can transform a day look to an instant night look, making us feel rather sexy, sultry and rock chick-esque!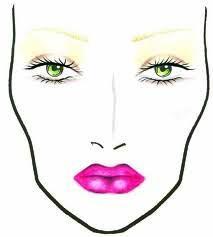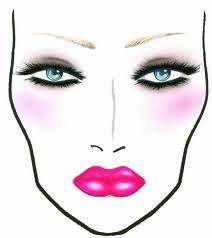 As like other major necessities in life, eyeliner is one of mine!
For this reason I have come to try out many over my years in the beauty business, some good, some bad, some truly fantastic & some .... well, I wouldn't even color in with them! But we shall talk about the fabulous!
Black
 is always the one that people struggle with finding. We want it to tick many boxes like its color pay off being strong, to be long lasting, to stay put all day/night long, glides on the waterline, avoids giving us panda eyes (unless that's the look we were going for) and its soft and kind to our eyes.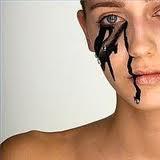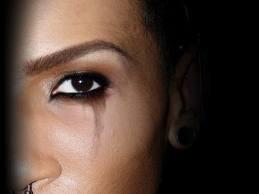 Well I have found some true gems that tick all the boxes above and deserve a mention, some may not be a surprise to some people as I know some of you probably already own them, but never the less, here are my TOP, TRIED & TESTED Black eyeliners including gel, kohl & liquid that are simply fabulous!
BOBBY BROWN Long Wear Gel Eyeliner - in Black Ink (a jet black)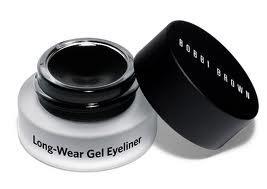 Bobby Brown Long Wear Gel Eyeliner in Black Ink, 3g/0.1oz 
€22.50/£18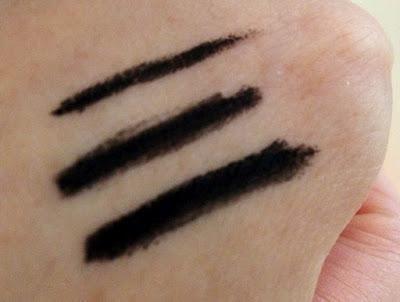 Swatches: Bobby Brown Long Wear Gel eyeliner in Black Ink
This eyeliner gives you the look of liquid liner with the ease & feel of a gel formula. 
Long-wearing and water-resistant it glides on & let's you get it just right before it dries, then stays without a smear or crease. It d
oesn't
 dry out and stays creamy. 
This is loved by all make-up lovers as it really is the 'creme de la creme' of gel eyeliners and my top gel liner 
favorite
. 
You shall not need to repurchase in a hurry as it lasts forever it seems?! 
How I use this & all other gel liners  -
I use this with any fine eyeliner brush, blot off the excess on the back of my hand and add more when needed, it just glides along the top lash line! When dry, it shall stay put until you remove it and it is really easy to remove with any make-up remover. 
Its available in many other colours too which are just gorgeous. 
You can use it on your upper & lower waterline also, but as I wear contact lenses I find it dries too hard in my waterline and disturbs my lenses, but that's just me. So I keep this for lash line only.
It is a tad pricy but lasts such a longtime its worth the investment for sure. It doesn't dry out either, I have tried many that go dry, especially MAC Fluidline, even with the top tightly sealed, just such a waste 
(sorry to say as I love MAC).
You can create simply any look that you want with this product.
This has won numerous beauty awards and rightly so! One you all should own and have in your collection. 
MAYBELLINE Eye Studio Lasting Drama Gel Liner, 24 hour wear - in Blackest Black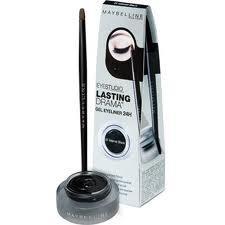 Maybelline Lasting Drama Gel Eyeliner 
€10.40/£7.99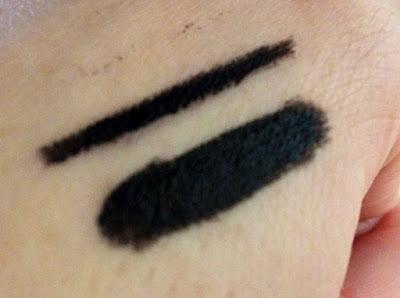 Swatches: Maybelline Lasting Drama Gel Eyeliner, Black
This gel liner is an Oil-free formula that holds highly concentrated pigments in a clear gel base, is s
mudge-proof and waterproof for 24 hours (so it claims). 
Most intense line for lasting drama, 
Safe for sensitive eyes and ophthalmologist-tested, 
Contact lens safe. Comes with a free eyeliner brush too which is actually very good to apply the product.
This is a bit of a hidden gem. I purchased this 6 months ago when it was on sale as I couldn't get to a Bobby Brown counter. I had no high hopes for this if I am honest going on past experiences of high street liners.
Well, that showed me - this is terrific! This really impressed me. Its blacker than black, creamy, easy to apply, long lasting and super affordable. 
As for 24 hours long wear, it does stay put all day, but this may depend on each person individually as to how you apply your make-up and what primers you use etc but I love it and again seems to last forever, even though the pot looks really small. 
I believe it comes in 3 other shades so when I get back the UK I shall certainly be purchasing some more. Go try this one!
MAC Kohl Eyeliner Pencil - in Feline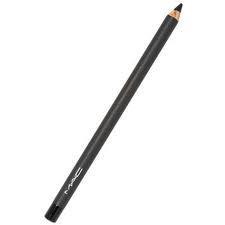 MAC Power Eye Kohl, Feline,
€16/£13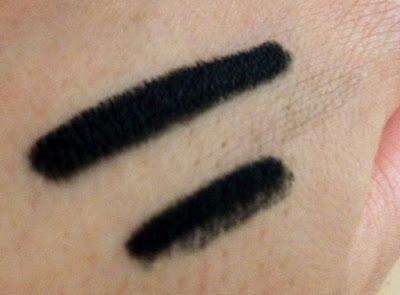 Swatches: MAC Power Kohl Feline (above) MAC Smoulder (below)
This kohl pencil has all the intensity and color power of ultra-soft carbon. Specially formulated to provide deep, fully opaque coverage, provides an intense, smoked finish with duo-chrome pearl. Great to blend or smudge.
This is my favourite kohl pencil for inside the waterline. Its SO BLACK and opague and seriously stays put. It takes no work whatsoever to apply as the deep carbon black kohl goes on effortlessly. If you don't like a strong black then this isn't for you and you should try Smoulder eye pencil instead, this is also fantastic but less opague. 
I am the perfect test for that as my eyes constantly water in the sun due to being so light sensitive and with this, the pencil is still there in tact as if I had just applied it. Do beware it can smudge around the eye being so soft, so be careful where you use this! That is why I like it on the waterline as its super soft and creamy that no pressure need be applied when applying to the delicate area of the eye. If you want a pencil that you can blend and smudge this is perfect for that as works like a dream. Great for a smoky eye look especially. 
I am not sure if this comes around as a re-promote like MAC do or it is now a permanent line, but my advice is when you see it, buy it! 
SEPHORA Long Lasting Liquid Eyeliner - in Black/Noir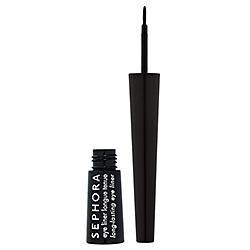 Sephora Long Lasting Liquid Eyeliner, Black,
€10.90/£9.00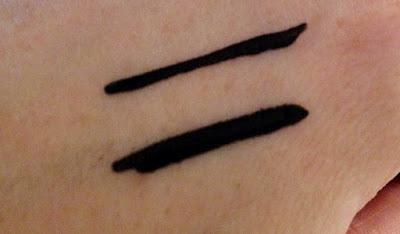 Swatches: Sephora Long Lasting Liquid Eyeliiner, Black
This is a real easy-to-handle liquid liner which has a fine, flexible brush for precise application, and a rich, creamy formula that dries fast and stays put.
Liquid eyeliners are always the hardest one to get right as they all seem to dry up within a few weeks after costing you a fortune.
But not anymore after finding this one! This eyeliner is always a sale staple for me, as each time Sephora have a sale (and I shriek with excitement) this is always included and for only around €5 hence why I always pick up a few! I personally tend to use liquid eyeliner to go over pencil if I need to intensify the look or perfect it and I find layering with this really works well.
The color pay off is very black, it is smudge proof once dry and the tube again really does last months and doesn't dry up inside. You can create really defined flicked out lines with this as it is very precise. Most definitely an affordable 
liquid liner that performs superbly.
AVON Supershock Gel Eyeliner Pencil - in black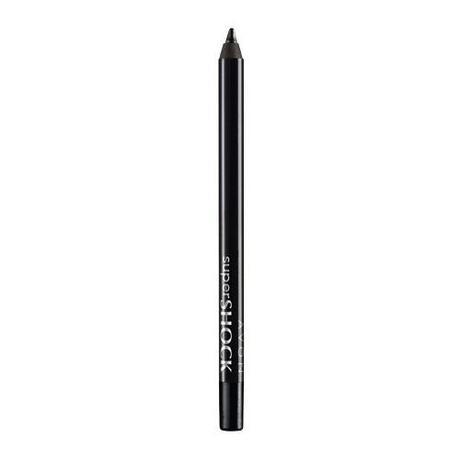 Avon Supershock Gel Eyeliner, Black
€7.50/£6.00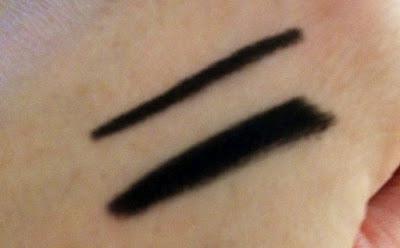 Swatches: Avon Supershock Gel Eyeliner, Black
This is a key 'affordable' product from Avon, who are doing brilliantly with their make-up ranges today as it seems to have formed
 a trendier image now as opposed to years ago when it was seen as an 'older persons' at home brand. Thanks to the two talented make-up artists 'Pixiwoo sisters' who have endorsed a lot of their products and do online make-up tutorials using avon products, Avon has become much more well known now for their make-up lines.
This is a gel liner but in pencil form, its amazingly opague, intensely black , 
glides on smoothly without dragging or pulling and is a mega cheap for what it actually does! You get all the effects of wearing a gel liner but in an easier application, so ideal if you have difficulty using a brush or perfect for on the go. 
This is great if you are on a budget but want a quality product and the price its so worth a try! (available also in other shades).
Eyeliners for Semi-Permanent Eyelash Extension Wearers!
If you have semi-permanent eyelash extensions and want to wear eyeliner I always recommend to my clients that they maybe use a powder eyeshadow to line with or a wet shadow for a more an intensified look, this ensures minimal disruption to the lashes as it is easily removed. I have recently discovered from La La Lashes (from Lash Perfect) a liquid liner that is an 

Organic Semi Permanent Eyeliner, totally compatible with lash extensions due to their 100% waterbased formula, link here, priced £11.95. This Makes it safe to wear eyeliner without harming your lash extensions!
The Eyeliner brushes that I like to use ...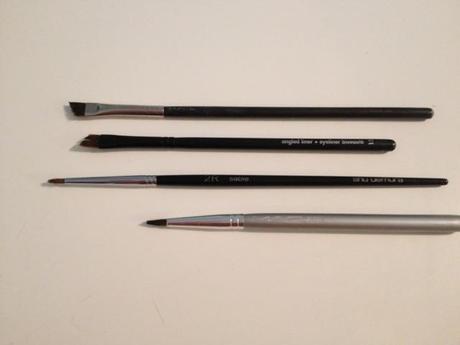 (Top to Bottom) Eyeliner Brushes: MAC angled liner brush,
Sephora angled liner brush, Shu Uemura fine liner brush, MAC liner brush (SE)
STOCKISTS!
Bobby Brown available at most local Bobby Brown Counters or online at

Sephora

Maybelline Eye Studio Lasting Drama Gel Liner available online with free worldwide delivery at 

Feel Unique

 or any drugstore/pharmacy.
MAC Kohl Pencils available at any MAC counter or store near you.
Sephora Long Lasting Liquid Liner at Sephora  
Avon Supershock available worldwide at AVON
I hope you found this helpful and try one out!
Do you have a favorite eyeliner you cant live without?
I love to read your comments!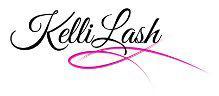 xxx