The Tuskegee Airmen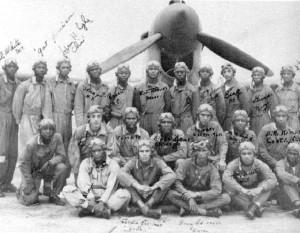 Members of the Tuskegee Airmen were the first black pilots to serve in the American military. The name comes from the location of where they were trained, much of which occurred on airfields around Tuskegee, Alabama. Morton Field was where they received their primary training, much of which occurred in biplanes. Several miles away at Tuskegee Army Air Field the airmen undertook basic and advanced flight training.
In March 1941 the first black flying unit, the 99th Fighter Squadron, was activated. It wasn't until the spring of 1943 that the 99th deployed to North Africa and entered combat. They flew P-40s for the Twelfth Air Force while being attached to various white fighter groups. While with the 12th, the Tuskegee Airmen of the 99th shared two Distinguished Unit Citations with the group it was attached to. Later in the spring of 1943 they moved from North Africa to Italy. In January 1944 the 99th shot down 13 enemy aircraft over Anzio in two days.
Meanwhile, after completing training, the 332nd Fighter Group, which consisted of three fighter squadrons, also deployed to Italy in January 1944 where it flew P-39s for the 12th. It flew its first combat mission a month later. The 332nd was later moved to Ramitelli Airfield in Italy and transferred to the 15th Air Force. There they traded up for P-51 Mustangs and began escorting heavy bombers well into enemy territory, including Germany. In July of 1944 the 99th Fighter Squadron joined the 332nd, upgraded to P-51s and also ran bomber escort missions. At this time all four black fighter squadrons were together.
Each fighter group had its own unique tail markings. The 332nd had a solid red tail, and thus became known as the "Red Tails." Between June 1944 and April 1945 the Red Tails flew over 311 combat missions. This included 179 bomber escort missions, where they lost a total of 27 escorted bombers. The number of bombers lost to the other fighter groups averaged 46.
All told, the Tuskegee Airmen shot down a total of 112 enemy aircraft. None of the pilots accrued five kills which would have made them aces, but 95 of them earned the Distinguished Flying Cross. On their most famous combat mission they escorted B-17 bombers to Berlin. Three of the pilots shot down German jet planes during that mission, earning the 332nd Fighter Group a Distinguished Unit citation.
The most famous Tuskegee Airman was Colonel Benjamin O. Davis, Jr., a graduate of West Point. During the war Davis commanded the 99th Fighter Squadron and then later the 332nd Fighter Group.
Although challenged as to their abilities to successfully perform combat missions, the Tuskegee Airmen proved themselves able combat pilots and led the way for others of their race to pursue careers as combat aviators. In large part due to the Red Tails, the US Air Force, formed in 1947, became the first of the American armed forces to integrate.