Here, ladies and gentlemen, is the truth, the ugly, raw truth of it all--guns in America: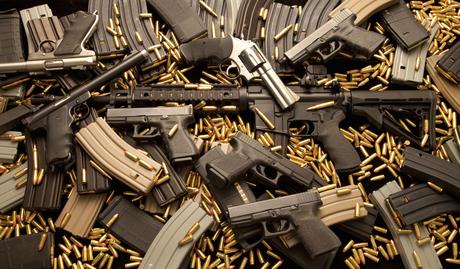 "This is why we have the headlines all wrong: Guns are not being abused or wielded incorrectly in America. They are not "falling into the wrong hands," ill-begotten by "evil people" and "crazies" and "psychopaths." This is not true in the slightest.
Just the opposite, actually. When yet another mass killing occurs, when another woman is murdered by her ex-husband (which happens every single day in America, BTW), when another despondent teen kills herself with her dad's gun (ditto), when more males – and it is almost always males – shoot each other in the street, when more schoolchildren die at the hands of effortlessly well-armed adults, these are not tragedies. It's exactly what we expect to happen.
The guns are, in a very real way, just fulfilling the destiny we instilled into them. They are doing exactly what we designed them to do, what we demand they do, as physical extensions of our fear and rage. You can't shove 10 billion tons of carcinogens into the atmosphere and not expect massive outbreaks of cancer. You can't put 300 million precision tools of death into the culture and not expect their latent, intrinsic objective to be realized, every single day.
This is why all religious and spiritual traditions the world over agree: Guns are for cowards. They provide only the thinnest illusion of authority, the ugliest veneer of control, the most artificial aspect of authentic manhood.
Proof? Simple: Just remove any gun fetishist's (or terrorist's, or mass shooter's) stockpile of weapons, and watch what happens. They are instantly deflated, lost, rendered vulgar and human. All illusions of power and machismo vaporize, leaving only the base energies of hate and fear they often don't understand, much less know how to transmute into something like kindness and love."
Link:  
Shooting up America: Guns are a national disgrace