Gwyneth Paltrow announced on her website Goop last Tuesday that she and her husband of ten years, Chris Martin, of the band Coldplay, were splitting up. Her post,
"Conscious Uncoupling,"
got so many hits that it crashed her website. There was the usual public response of sympathy and derision, in equal measure. As soon as the news hit,
another recent interview
that Gwyneth did with E! Online began to circulate, where the actress spoke about the challenges of being a working mom:
"… I have a rule about one movie a year, so I can't shoot anything for a while, but I'm developing some material and working on the site [Goop] and raising kids. ... I think it's different when you have an office job, because it's routine and, you know, you can do all the stuff in the morning and then you come home in the evening. When you're shooting a movie, they're like, 'We need you to go to Wisconsin for two weeks,' and then you work 14 hours a day and that part of it is very difficult. I think to have a regular job and be a mom is not as, of course there are challenges, but it's not like being on set."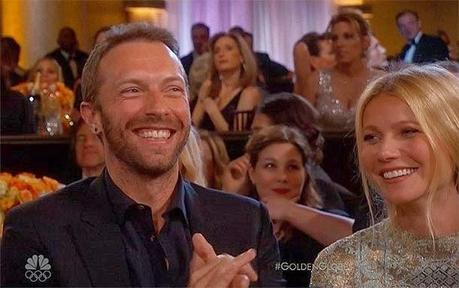 Paltrow and Martin
Oh, Gwyneth. So out of touch. She opened the door for tons of laceration with that little Mommy and Me nugget, like this recent
hilarious take-down
in the
New York Post
. No one dissolves a marriage overnight, and it is likely that Paltrow and Martin have been grappling with their decision for quite some time, especially considering they have two young children, Apple, 9, and Moses, 7.
It has been rumored
that the recent canceled
Vanity Fair
cover story on Paltrow was quashed by the star because she and Martin weren't ready to go public with their plans and didn't want the kids to find out too soon. Sounds reasonable. There are also numerous rumors of the marriage being over for quite some tie and them each being with other people. Possible, but who cares. Breaking up, whatever the circumstances, is always hard to do.
I don't follow Paltrow's career too closely. She doesn't make that many movies anymore, and the ones she does I rarely want to see (
Contagion, Thanks for Sharing, Country Strong
). We did see the
Iron Man
films, but that was mostly for Robert Downey, Jr. I have had my own love/hate moments with the actress. When she first appeared on the scene I was less than fond of her. She always seemed to have a smug smile. It didn't help that she was dating one of my heartthrobs, Brad Pitt, and they had matching haircuts at the time. I also really disliked that famous pink ball gown she wore to the Oscars. It seemed, like Gwyneth, just a bit too much. And ill-fitting. Later, post-Pitt, I didn't mind her so much. I did like her in
The Royal Tenenbaums
. I also really liked her cookbook,
It's All Good
, that came out last year and still use some of the recipes, especially the
turkey
burgers and meatballs, regularly.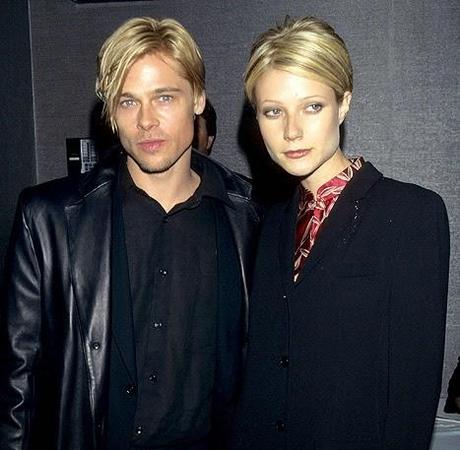 Twins.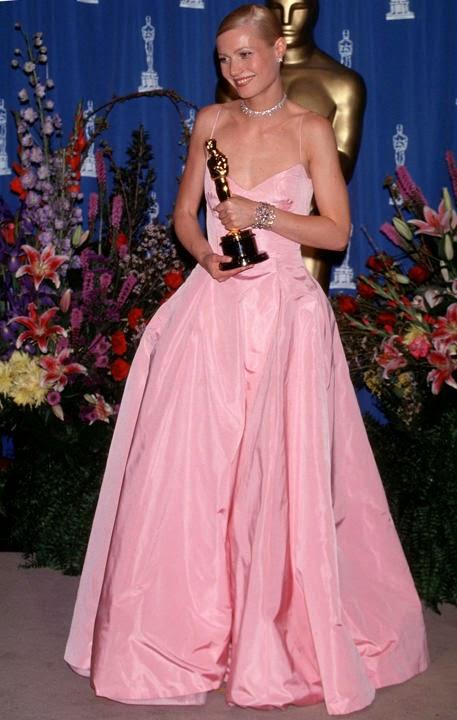 Gwyneth, with her Oscar for Shakespeare in Love. But can we just hoist that bodice up a bit? It's doing her no favors.
Paltrow and Martin have
reportedly escaped to the Bahamas
to avoid more media scrutiny. Le sigh. So America's love-hate relationship with the star continues. Any chance for a purely sympathetic series of magazine covers of the soon-to-be single mom seems to be out of the question now. I don't wish any of them any ill will. But I wouldn't mind not being barraged with more lifestyle quotes and divorce/break-up details, either. Maybe it would be good to take a step back Gwyneth, and go for some quiet time.