InThe Haunting of Alma FieldingEnglish woman Alma Fielding has had a hard life. She has had numerous health issues, is in a dull marriage and struggling financially. The world around her is in chaos, too – war with Germany seems imminent. And to add to all of her stress she seems to have attracted an at first mischievous, at times violent spirit – a poltergeist. Alma's haunting has attracted the local newspaper, and also the attention of Hungarian emigre Nandor Fodor, a journalist turned psychic phenomena investigator. Fodor has created his own institute of psychic investigation. He is part Ghostbuster, part hopeful spiritualist. He ands colleagues start to study Alma – and to attempt to witness a psychic event as it happens. Some of the "examinations" of Alma and the lengths to which Fodor and his investigators try to prevent or identify any fraud or hocus focus on her part are quite elaborate. And also quite unprofessional. Especially strange is a "field trip" to the seaside where Alma may or may not have been "gifted" a piece of costume jewelry by her spirit.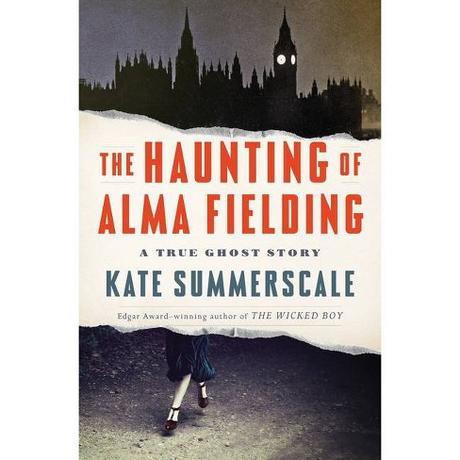 The Haunting of Alma Fielding by Kate Summerscale
The writings of Sigmund Freud were in fashion at the time, along with spiritualism, and The Haunting of Alma Fielding suggests the effects of trauma and loss on the human psyche can 1. manifest psychic phenomena or 2. manifest a desire for psychic phenomena (?).
Author Kate Summerscale (The Suspicions of Mr. Whicher) has compiled all of Fodor's records and other documentation of Alma's case to (re)tell her story. The Haunting of Alma Fielding may not ultimately be very haunting a tale, but Summerscale takes us step by step through the investigation and it is fascinating, if ultimately quite sad. Alma. whether you believe her role in the strange happenings that occur around her or not, was a troubled, lonely soul.