A few weeks ago I received a call from a favorite client eager to continue on with phase two of the re-design of their home.  When they purchased their McMansion from a builder thirteen years ago, they realized this property, located in an exclusive gated community, was big on space yet short on style. Never the less, they were willing to give it the TLC it deserved – over time.
Our first project a couple years back was to take an unused and very overgrown exterior courtyard and transform that square footage to an interior Bar room. Today, this space is easily accessible from the kitchen, family room and dining room and has become the ideal space for entertaining friends and family.  It also doubles as a homework zone for the two children.
The new phase of their design profile is to infuse some much needed character and warmth into their lack luster home – from the re-design of the family room, to a full gut renovation of the master bath – along with new furniture and finishes in the living room and master bedroom.
The overall design criteria:  To incorporate a comfortable and classic style with a "Timeless Design" sensibility.
So what makes an interior "Timeless"?
Creating a functional, inviting and comfortable living experience.
Investing in the integrity of your home by introducing architectural details and finishes – such as arches, beams, coffered ceilings and moldings for example.
Respecting the original architectural style and character of a home even when adding on or renovating.
Designing seamless transitions, which make it impossible to distinguish the old from the new.
Resisting trends, which tend to date a space and implementing natural and neutral surface materials such as hardwoods, stones and wools, which have greater longevity and withstand the test of time.
Implementing sensible design principles with a focus on comfort and practicality.
Combining traditional elements with a contemporary flair creating a classic and transitional design.
Purchasing quality pieces that get better with age – and are handed down through the generations.
Painting your canvas over time and only investing in what you really love!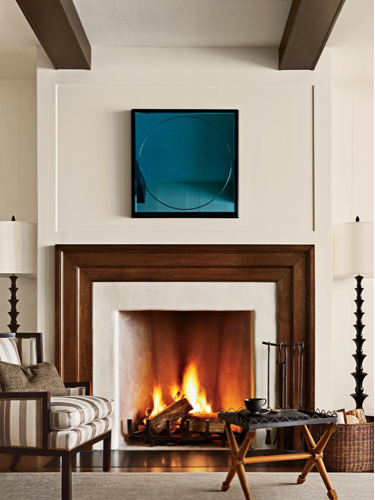 Photo Via Veranda                             Designer: Barbara Barry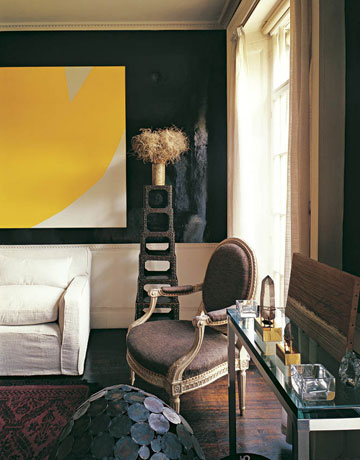 Designer David Hicks
Here is some great "Timeless Design" advice from nine design icons featured in Adam Lewis's Book "The Great Lady Decorators".
1. "Every room has a mood or personality…and it is this that one desires to develop." —Eleanor Brown
2. "Make the husband happy, and the job is done." —Frances Elkins
3. "Believe in optimism and plenty of white paint." —Elsie de Wolfe
4. "If you make a compromise — selecting something cheaper than what you really like — it compromises you, because you are never really happy with the result." —Rose Cumming
5. "There is one fundamental fact about lighting: Where there is no light, there is no beauty." —Ruby Ross Wood
6. "You can never achieve anything in a house unless you have things that have been passed down and you find a place for them for yourself." —Sister Parish
7. "Crossing too many t's and dotting too many i's make a room look overdone and tiresome. One should create something that fires the imagination without overemphasis." —Nancy Lancaster
8. "Love is essential to the decoration of a house….A room must say, 'My love is here,' or 'My love has just left,' or 'I'm waiting for my love to arrive.'" —Madeleine Castaing
9. "Too often when we're buying or building a house, we do not consider each room. We are carried away by one charming feature and are blind to details that will give us trouble later on." —Dorothy Draper
True timeless interiors only require small tweaks over the years to re-fresh and renew the space.
Enjoy creating your timeless interior – it should be a labor of love.
Stay Inspired!