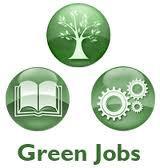 Recently I read an interesting article on Grist titled  "How to land a green job in 2014" by Kevin Doyle.  The article provides nine reasons why 2014 may be a good year for green jobs.  Below are the highlights from the article which I highly recommend that all green job searchers read.  In addition, readers may want to peruse an article published last year on this site about finding green jobs as well.   Below are the top nine reasons 2014 could be a good year for you to find a green job.
1. Compliance with rules and regulations is still a strong eco-job driver.
2. Eco-job growth often follows overall economic growth.
3. Climate resilience work is increasing. Disaster response, too.
4. "Sustainability" will often be assignments for employees, not new jobs.
5. The long awaited wave of eco-retirements may be arriving.
6. Employment in the clean energy industry keeps rising.
7. Is water the new energy?
8. Rising hopes for "big data" in environmental work
9. There are always jobs for rainmakers.
Source: Grist
Image source: Workforce3One