Over $55 billion dollars will be spent by Americans on their pets this year.  This doesn't mean that you need to bust the budget pampering your pet, and yourself, in the process.  Not only do pets offer emotional rewards for their owners, but they can help provide exercise and even help decorate your home.  Pampering your pet could mean more than grooming or buying a lot of toys, it could mean creating innovative habitats or new activities for you animal companion.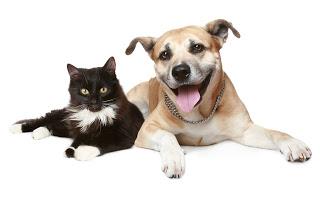 1.  Agility
 While normal dog walking and playing offers great exercise for both you and your dog, agility training takes that to a whole other level.
 Agility training involves training your dog to run obstacle courses which include jumps, ramps and tunnels.  You can buy or make the supplies for creating an agility course in your own back yard, creating endless hours of fun for you and your dog.  For example, you can get agility tunnels, fabric and plastic tunnels that your dog runs through at TheLAShop.com for less than $50.  Other sites such as the agility website provided by the AKC help you determine how much training your dog needs to become part of this fun and exciting sport.
2. Personalized Name Tags
 Having a name tag on your pet is a safety plus, second only to getting them micro chipped.  It used to be that you could only buy the most boring of tags, a chrome bone or something similar with your pets name and address on it.  Now, pretty much all of the big box pet stores and even some discount stores offer tags in exciting shapes and colors, some even encrusted with crystals to give your pet a little bling.
 If you want to go even father for personalizing your pet's tag, you can find sites online where artists will make personalized tags with shapes, colors and decoration that go beyond what you can get in the store.  They may be more expensive and you don't have the immediate satisfaction of a store-engraved tag, but you may be able to find a tag that fits the unique personality of your dog or cat in a better fashion while helping an independent artist.
3. Wall Hooks for Leashes
 Leashes are usually not pretty.   They are, however, an essential part of dog (or even cat) ownership.  Hanging an ugly leash on an ugly hook near the door may be practical, but why do that when you can get creative and beautiful hooks designed especially for dog owners?
 At TheLAShop.com you can choose from a variety of breed specific or even species specific (for those that have leash trained their cats) that add a decorative pop to your leash storage so that you can hang your pet's leash in style.
4.  Terrariums
 Most people made terrariums on elementary school, i.e. some sort of self contained mini-environment with plants.  Terrariums don't have to be a big mason jar filled with dirt and plants.  There are many sites that help you create DIY versions that help you decorate your home by bringing some nature in.  
 Not only can you create a terrarium that looks beautiful, but it can be engaging as well.  Put some more tropical plants and possibly some more exotic pets, such as tree frogs from the pet store, and you have a piece of the outside, inside, helping create a calming spot in your home.
5. Fish Tanks 
 Many people have goldfish as their first pets.  Not only do they have little chance of causing allergy problems, but for a first pet they can be relatively easy to care for with somewhat low start-up costs.  
 As with a terrarium, a fish tank can be more than just plastic pirate ornaments and other toys with a couple of gold fish.  A well decorated tank can create a showpiece in your home and the choices for the types of fish you get can be nearly limitless.
 While salt-water tanks are more for advanced users, tropical tanks can be relatively easy to set up with guidance from books, blogs and your pet store.  More and more pet stores have massive aquarium and fish sections, allowing you to decorate your tank in a natural way, doing away with the neon and sunken treasure.  With proper fish combinations, you can create an interesting centerpiece for a room that looks more like a natural ecosystem brought in to your home, rather than a toy box.
This is a guest post by Vanessa Erin.