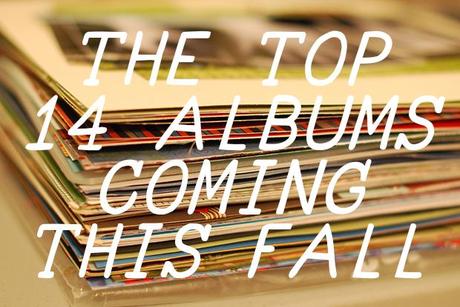 In addition to all the regular fall things that are worth looking forward to, like pumpkins and apple cider and jackets, the most exciting thing of all is the onslaught of new music that comes out every year. Fall is one of the most amazing release times of the year, with gem after hotly anticipated gem dropping each and every week. So, we decided to take a break from our usual jokey playlist schedule over at List-Stings and mention some of the records that have us the most excited.
CHVRCHES – The Bones of What You Believe
"The Mother We Share" was on our best songs of 2012, so we've been holding out for the Scottish electro group's debut for a long while. Based off early signifiers, like the several songs already released and the fact that it leaked forever ago, this is gonna be a great one. Seriously, it's not even out yet and they are already the main artist on pretty much all of my playlists. — Out 9/23
Drake – Nothing Was the Same
Take Care is basically a masterpiece that completely defines the mopey-wuss rap/r&b fusion genre. Based on early indications, Nothing Was the Same will be just as awesome. — Out 9/24
Haim – Days Are Gone
Speaking of full length debuts that we've been waiting an eon to hear, did you hear that Haim is actually coming out with an LP!? It's kind of hard to overstate how absurdly excited we all are for this one. We've played the Forever and Falling EPs too much and need some new awesome girl rock in our ear holes! — Out 9/27
Lorde – Pure Heroine
This fall is looking like one of the best in a while for debut records, and one of the most widely anticipated comes from this New Zealand teen. With the release of "Royals" earlier in the year, Lorde turned a lot of heads and every subsequent track has been just as great, if not better. Hopefully, the full record will absolutely cement her place in pop. — Out 9/27
Dr. Dog – B-Room
Last year's Be the Void was a pretty spectacular effort in laid back, jammy soul. This year's B Room is billed as a follow up to that record, which is enough to get us pretty pumped. When we heard the newest single, "The Truth", it hyped up the anticipation even more. — Out 10/1
St Lucia – When The Night
Look! A pattern! Another band that we love to death that is finally releasing a full length debut. While St Lucia's special brand of up-beat shimmery pop is best suited for summer strutting, we could all use this extra burst of sunshine in our lives come October. If the recently released "Elevate" is any indication, this will be basically the best dance party music ever. — Out 10/8
Darkside – Psychic
Nicholas Jaar and David Harrington are two of the most interesting and exciting electronic artists working today. Their reworking of Daft Punk's Random Access Memories was a highlight of the summer, and the early sounds they've released so far are as glitch and moody as you could hope. It's not for everyone, but this is easily one of the most interesting and promising releases of the fall. — Out 10/8
Sleigh Bells – Bitter Rivals
We were suckers for the perfectly noise-infused bubble gum pop that Sleigh Bells delivered with their second record, and Bitter Rivals looks to continue the trend. The first single off the record has everything you want from Sleigh Bells: perky pop vocals, bursts of static guitar and Charles Dickens quotes. — Out 10/28
PAPA – Tender Madness
Yet another debut full length that we couldn't be more excited to finally hear, PAPA is following up their great EPs and singles with Tender Madness. The first track released from the album "Young Rut" has all the energy and spark that we love from the band. — Out 10/8.
Lucius – Wildewoman
Another one of our longtime favorites is releasing a record this fall, and we couldn't be happier. With their lovely vocals and immaculately crafted songs, we're 100% sure we'll love this as much as we love absolutely everything they do. — Out 10/15
Avett Brothers – The Magpie and the Dandelion
The always-charming folksters The Avett Brothers surprised us with the announcement that they were releasing another record less than a year after their excellent The Carpenter. It's a pleasant surprise that they have something ready so quickly, and we're sure they'll deliver banjo fueled ditties that we'll be humming to for months to come. — Out 10/15
Arcade Fire – Reflektor
Have you heard the title track yet? Cause that alone is reason enough to be waiting with baited breath for the newest from these titans of indie rock. Did you hear that it was produced by James Murphy, cause again, reason enough. In the meantime, we're gonna go play with the "Reflektor" video. — Out 10/28
Cut Copy – Free Your Mind
Australian synth-popers Cut Copy have long been party staples — their particular brand of peppy, electro-pop is always welcome on any playlist. We've been waiting for the follow up to Zonoscope for quiet some time, and the more psychedelic direction the band seems to be taking with the first single, "Free Your Mind" means that the wait looks to be 100% worth it. — Out 11/1
R.Kelly- Black Panties
It's called Black Panties. Sold. — Out 11/11