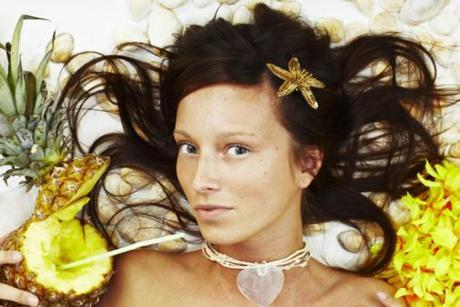 Hawai'i – often seen as paradise and the ultimate place to relax and indulge in an exotic, tropical experience – and that'd be right! Some of you may know that I'm originally from O'ahu, Hawai'i (but currently reside in Southern California). This is the sole source of my heavy bias and love for tropical scents, coconuts, fruits and exotic fragrances. :)
The women of Hawai'i often have long, flowing dark hair, golden tanned skin, and wear shorts and slippers (or flip-flops) all day. I know I certainly did (and still do)! With the beautiful weather there, why wear anything else? Many local women also used traditional Hawaiian and Polynesian plants, food and flowers from the kai (sea) and 'aina (land) to maintain their beauty, such as kukui nut oil, aloe, Hawaiian sea salt, and fruit enzymes to naturally maintain their raw beauty.
Today, I'll tell you about the most common ingredients used there and in Polynesia, as well as some suggestions for natural or organic beauty products that use them to implement in your routine. Take a vacation from the ordinary and do what the locals do – Pomaika'i!
Kukui Nut Oil (Aleurites moluccana) 
The Kukui is Hawai'i's state tree, so it's a pretty big deal there. In ancient Hawai'i, they were burned to provide light. Besides being fortified with essential fatty acids, Vitamins A, C, E and antioxidants, it's versatile and works equally well on skin and hair. This thick oil is also a rich emollient and very moisturizing, and an effective treatment for acne, dry skin conditions, scars, eczema, psoriasis and dry hair & scalp. Kukui nut oil makes a wonderful base, doesn't irritate the eyes, penetrates the skin and absorbs quickly, and is great for all skin types.
Try:
Russell Organics Kukui Nut Oil – $18.00
Hawaiian bath & Body Scented Kukui Nut Oil – $12.00 – $30.00
Alba Botanica Deep Moisturizing Kukui Nut Body Cream – $13.99
Noni (Morinda citrifolia)
The noni is a tree in the coffee family, and currently cultivated in the tropics and topical climates. The juice and pulp is sold everywhere and touted for it's multiple health and medicinal benefits such as stimulating the immune system and its antibacterial, analgesic and antiseptic properties, but it's also very beneficial for skin and hair when applied directly. The antibacterial aspects help with acne and serves as a natural astringent, mixed in creams and oils it helps nourish dry skin, and it's also great for dry, itchy scalps.
Try:
Organic Rosehip Skincare Noni Cream – $40.00
Noni Island Herbals Healing Oil of Noni - $19.95 – 29.95
Awapuhi (Zingiber zerumbet)
Awapuhi, or Hawaiian ginger, is a very fragrant flower that originated in India, but is now found in many tropical countries and climates. It's most popularly used for shampoo and conditioner formulas. The clear slimy juice present in the mature flower heads is excellent for softening and bringing shininess to the hair. It can be left in the hair or rinsed out. The juice is also excellent for massages. Awapuhi's softening properties have also been used in skin care, and is believed to lighten dark spots.
Try:
Tamanu Oil (Calophyllum Inophyllum)
One of the South Pacific island's best kept secrets is now reaching mainstream attention. Tamanu oil is cold-pressed from the kernel of the tamanu tree for both skin and hair products, or on its own. Tamanu has a rich, spicy scent. It's been known to help clear skin problems such as acne and subsequent scarring, wrinkles, age spots, dry, scaly skin, stretch marks, eczema, and body/foot odor. Tamanu oil absorbs quickly into the skin and rejuvenates it with extra antioxidant properties.  

Try:
Kona Coffee (Coffea arabica)
The beauty benefits of coffee are not new to most of us natural beauty fans.  However,  Kona Coffee is unique in that it's the only coffee grown in the United States with the rich volcanic soil on the Big Island. The caffiene in Kona coffee improves skin texture,  neutralize free radicals and removes puffiness and swelling, and its antioxidant rich qualities protects skin against the environment.
Try:
100% Pure Cocoa Kona Coffee Body Butter – $16.00
Pacifica Kona Coffee and Sugar Body Scrub - $28.00
Tropical Fruit Enzymes 
Pineapples, papayas, mangoes, passionfruit, guava, and bananas are some of the most common tropical fruits used as body and face masks when sliced and smushed into pulp. Pineapples contain bromelain, an enzyme that can break down dry, dead skin cells and promote softer,smoother skin. Papayas have papain, an enzyme that helps to rebuild the elastin of the skin and prevent wrinkling. It's also known to naturally brighten skin. Bananas can soften, heal and nourish skin, and mango butter is easily absorbent and a great moisturizer. Passionfruit enzymes help acne-prone skin by serving as an astringent, removing oil and softening skin with gentle exfoliation. Guava enzymes and extracts contain lycopene, an antioxidant thought to  prevent skin damage from UV rays and the harsh environment. All of these enzymes also serve as gentle exfoliants.
Try:
100% Pure Pineapple Enzyme Peel Mask  – $17.00
Bryce Organics Jamaican Papaya Enzyme Facial Peel Masque – $41.00
Shea Terra Pink Guava and Pomegranate Organic Shea Butter & Fair Trade Sugar Scrub – $21.00
Coconut (Cocos nucifera)
Coconuts are also nothing new with the natural beauty enthusiast. It's oil has been used in the tropics for centuries, naturally moisturizing and keeping skin and hair soft and supple. While not normally used on the face, it can be safely used from head to toe and is an efficient substitute for expensive conditioners, lotions, and body oils that perform the same function. On the hair, it can be used as a pre-wash conditioner, hot oil treatment, and on dry hair as a finisher. Plus, it smells delicious and literally defines the tropics! The lauric acid in coconuts helps the body produce a compound that exhibit antiviral, antimicrobial, and antifungal properties.
Try:
Tropical Traditions Extra Virgin Coconut Oil –  Starts at $19.95
Organic Fiji Coconut Oil Soaps – $12.00
Hawaiian Bath & Body Coconut Cream Tropical Skin Therapy Lotion – $14.95
Hawaiian Sea Salt (Alaea salt)
The natural unprocessed sea salt found from the oceans of Hawai'i is used for both cooking and personal care purposes. Sea salt is therapeutic and is excellent when used as a bath soak, or in conjunction with Epsom salts. They're also used to make homemade scrubs for grainy, highly abrasive exfoliation. Basically, they're Hawai'i answer to a soothing soak or scrub.
Try:
Hawaiian Bath & Body Hawaiian Soaking Sea Salt – $15.00
Ola Tropical Passion Fruit Citrus Pacific Salt Scrub – $24.00
Alba Botanica Natural Hawaiian Body Scrub Revitalizing Sea Salt - $12.49
Hawaiian Sugarcane 
Locals use sugarcane for body and face scrubs for their natural exfoliation, easy to spread consistency when used with oils, and rejuvenate the skin to restore its natural glow. They're also used to exfoliate the lips to a soft, kissable finish. Sugar scrubs are popular in hotel spa treatments and super easy to make at home.
Try:
Ola Hawaii Cane Sugar Scrubs – $24.00
Hawaiian Bath and Body Sugar Cane Lip Balm- $3.25
Maui Sugar Scrubs – $16.95
Volcanic Ash Clay 
Like other clay masks, but special! Volcanic ash clay, or sodium bentonite clay, is a very mineral rich treatment designed to remove impurities, toxins and extra oils. The clay makes a great mud detoxifying treatment for the body, or a clay mask for the face to refine texture, mildly exfoliate, and minimize pores. The sulfur in volcanic ash is also a disinfectant and anti-bacterial, but please use with care when dealing with volcanic ash directly.
Try:
Life's Abundance Revitalizing Clay Mask – $24.95
Natural Island Skin Care Active Ash Body Butter Scrub – $31.99
Volcanic Earth Organic Exfoliants - Starts at $10.40
Aloe Vera
Aloe Vera grows in many tropical climates and has been used for skin, internally and as an herbal remedy for centuries among many civilizations. The gel is a common base for natural beauty products, such as lotions, creams, cleansers, lip balms and body washes. From the leaf, the thick gel is used directly on cuts and bug bites to help disinfect and heal, and is also used directly on skin to deal with acne, psoriasis and eczema. It's even used to sooth sunburns naturally.
Try:
Aubrey Organics Pure Aloe Vera Gel - $7.95
Lavera FACES Aloe Vera Cleansing Milk – $19.00
Aloe Vella Face & Body Scrub – $17.95
Macadamia Nut Oil (Macadamia integrifolia)
Macadamia nuts are a popular island snack (it's best with chocolate!), but their seeds also produce a wonderfully emollient oil. Macadamia trees are widely grown and cultivated on the Hawaiian islands. The oil is used for both cooking and personal care, and consists of palmitic acid, linoleic acid, linolenic acid and oleic acid. Macadamia nut oil has a silky texture, which makes it a popular addition to lotions and creams. It also boasts a long shelf life. Macadamia nut oil penetrates the skin deeply and quickly to provide instant hydration and promotes cell turnover. Dry, mature skin can benefit greatly from this oil as it helps improves skin texture and minimizes the appearance of fine lines. On the hair, it strengthens strands and leaves them looking silky.
Try:
Aura Cacia Organic Macadamia Nut Oil - $10.99
Inspired to try the local's way of staying beautiful?
These ingredients and treatments are used island wide at home or in fancy spas,  and it's easy to replicate at home. Try getting products that smell like the tropics to enhance the experience (my personal favorites are fruits, coconuts, plumeria or ginger), and you'll see why it's so easy to relax when you visit the Islands!