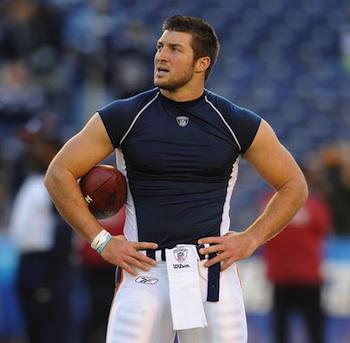 When was the last time during the biggest week in the biggest sport in the country, one of the biggest media attractions is a quarterback that's not playing in the BIGGEST game?

What makes an NFL quarterback- who according to his head coach not able to run a traditional NFL offense- a hero of so many NFL Fans?

Why is a quarterback that's been defeated twice by one of the teams in the BIG game, led by as prototypical a quarterback as they come, in so much demand during the BIG WEEK of the BIGGEST GAME?

 The Tim Tebow Effect.The Tim Tebow Effect-what the heck is The Tim Tebow Effect? Tim Tebow is a sports phenomenon, like fans haven't seen in awhile, if ever. NFL players, coaches, media pundits and fans are fascinated by Tim Tebow.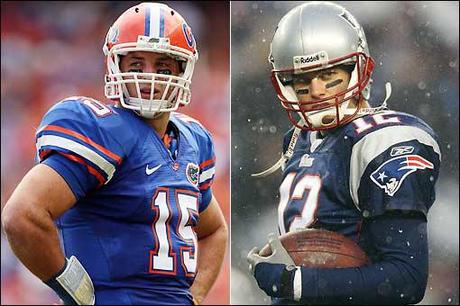 Recall the two Tebow vs Brady games, they were  MUST-SEE.... 

The Tim Tebow Effect.

This week , just prior to Super Bowl XLVI, Tebow was invited by EA Sports to participate in Madden Bowl XVIII. Of course, Tebow was on the winning team, involved in another 4th-quarter comeback . This time he scored the winning touchdown as a receiver, with ten seconds left in the game. In addition, Tebow is in competition with 64 other NFL players for the honor of gracing the cover of Madden 13.The Tim Tebow Effect!Tim Tebow has polarized the sports world. In this era of super athletes , super performance and super $$, Tebow  feels relatable, inspiring, it seems. Fans seem to enjoy his modest, respectful, confident approach to the game. Throw in the fact that he wins, doesn't hurt either, especially the way he leads his teams to victory. One additional thought-Tebow feels safe to fans. Substance abuse, domestic abuse, or any other abuse that dominate sports headlines are in stark contrast to Tebow's genuine persona. Fans for better or worse have always seen athletes as role-models. Tebow embraces and acts responsibly with the trust fans bestow on him. How interesting of all the story lines dominating SUPER WEEK, Tim Tebow -although not playing in the BIGGEST GAME-is still a lead story.It must be The Tim Tebow Effect.