Do you remember the time, Tamar, that we hiked that wild mountain in Vermont, so intent on our gossiping that we missed the trail junction and continued for a full mile down the wrong trail? We recognized our mistake far too late into the game, and quickly became panicked at the realization that we had to pick up your tween daughter at a local ice-skating rink. She would be disappointed and annoyed. Rather than fess up to our own idiocy, we concocted a fake story about encountering a mother bear and her cubs on the trail. They had menaced and delayed us! And the cubs were dreadfully cute. There were three of them. One had a stubby tail. One had a lisp, etc.
Your daughter ate up that story, She quizzed us about the adorable cubs. We lied like bandits to her, and to the kindly dad who had given her a ride home from the rink. The truth came out quickly, of course. Do you remember how I snortled, "We sure fooled that old Griff fellow!" without realizing that we had failed to properly hang up the phone and he could
still hear us
? (His name was something like Mr. Griffin.) Did we ever get
the business
from J and H, who were both disgusted and amused! ("You rotten, rotten liars.")
I could be altering some details of the story because memory doesn't always serve, but I suppose it doesn't matter. You're not here to correct me anymore, Tamar, so it's my story now. But it's still ours. It was a long time ago. Forgive me.
You surely remember our trip to the "Bloody Brook," in dead of night. It was in your hometown of Norwich, VT. We thought it would be a grand old idea to venture out en masse and skinny dip, drinks in hand. When we arrived at the Blood Brook, we found that the relative lack of rain had limited the brook to a shallow trickle. We went in anyway, dipping our nethers in a few sad inches of water. We laughed and laughed, and we scrabbled over the wet stones to find our shoes. We looked up to the full moon. We padded home in the dark, shoes in hand, drunk with love of our lives.
On another occasion, J and S polyglued eggs to an old railroad tie and we shot them clean away with BB guns. And we lit a bonfire by soaking a roll of TP in fluid and firing it down a zipline from an upstairs bathroom into a big garbage can of combustible materials. Does this sound impossibly dangerous? Oh, yes. But you have to understand: We were all guaranteed to live forever.
On so many Halloweens before I had children of my own, we painted our faces and carved pumpkins and roasted the seeds in olive oil and salt and ate them until our stomachs were sick. I spilled a mason jar of seeds into your front lawn and picked them out of the grass blades and ate them anyway. I was dressed as Ballet Pumpkin, or the Octo-Moose, or a Flying Purple People Eater—my costumes have always been a bit unique, and you lent your support with your clever sewing and additions. You always styled yourself as a one-of-a-kind witch—with such enormous creativity! I recall the Halloween when you had a smoking urn of dry ice on the lawn, and you sat in grand splendor with makeup so thick and green that no one could recognize you.
(Years earlier, I also recall arriving at your home for a visit and going to use the toilet, after a very long drive. I opened the lid to a smoking cauldron of doom. I thought the toilet was about to explode! Dry ice. Thanks for the panic attack, guys.)
You had a red door on that house, and a yellow lantern. You had cross-country skis on the wall of your garage. I once dug a flowerbed for new tulips in your backyard. When we had boys (all three of them), we sat in your backyard and made "Pine Noodle Soup" and played catch with a rubber chicken. I always felt at home there. We sat under a tree that oozed with sap and looked out on the half-pipe that J built for your son W and we talked until the sky grew light. We never ran out of things to talk about. Nor would we now, if I had the chance.
Just give me one clear night. One afternoon, in hazy sunshine. Give me your cats Blossom and Addie, who once crawled into my guest room and kneaded my chest for comfort in the night, or your small black cat, Misty, who darted in terror from our amateur movie-making, in which we made her an unwitting victim of a fiend that rose from the leach field. But most of all, give me you, Tammy. I miss your sweet, chuckling, authentic laugh. I wish everyone reading this who didn't know Tammy could hear  your  laughter. It was the best laugh ever possible. Real as anything you can touch with your hands. Yours was a laugh that suggested there was a deep river of goodwill flowing beneath us all, and you were privy to the source. You loved your life.
My god, but every moment matters. Because you're gone now, Tamar, and you were my sister in heart, and I never ever thought you would be gone. I sort of thought we would have another moment, another time, to recollect each and every one of these stories. I know you were a bit older than me, and all, but I never thought of you as such. You were young in every way. I could come to you and say: "Let's make fancy hats and costumes and parade down the road and toss water balloons at everyone just to delight their souls and knock them off their rockers," and you would never ask "Why?" You would only ask, "When? And do you have the water balloons handy?" Or better yet, "Let me fill them! Where's the nearest water tap?"
I remember my very first trip to Norwich, VT. Our dear friend S introduced us. I met you and J, and we sat by the fire, and he tossed popcorn at your knees, for no reason I could discern. There was a bright painting of hummingbirds above the mantel. The next day I slept in, and you all teased me relentlessly, saying I was "due the sleep to which I was accustomed and would sleep until the time to which I was accustomed." We went to a local apple festival and bought and ate crisp apples, and you gave me a lunchbag stuffed with goodies and trail mix that I took home and ate, bit by bit, until it was depleted. You called me "Princess Pomme" and later "Princess Pumpkin." I took your teasing for love. I pretty much knew that I loved your family then and there. I loved you. I love you. You one day said I was the little sister you never had. I couldn't be more grateful for that role.
Over time, over years, as your children grew, their artwork came to fill the walls of your home. The green-snouted thing with the purple eyes. A massive sunflower. Lopsided little clay cups on the windowsill. And as your children grew further, we played games. Your daughter drew a rabid raccoon during a game of Pictionary, and it stayed magnetized to the refrigerator for years, its eyes two magnificent little spirals. A quote appeared one year, attached to a cartoon, perhaps: "God does not play dice with the universe." J put that there. He's wonderfully clever, often challenging us to logic puzzles and math games. He loved you for 40 years. And we love him. He is as much a part of us as you are. And so are your children. We aren't related by blood, but we are all family, forever.
Do you remember, Tamar? I know you do. Every story, every inside joke, every prank, every night by the fireside singing our hearts out with the boys strumming the guitars, every conversation, every walk in the woods. We lost you sometimes in the "Triangle" and then we found you, and then we lost you again. You and I roamed about at night in our pajamas, and we lay down on the clean earth to look up at the stars. Who will remember your laughter? Who is going to remember "Mahlon Bither" and "Team Goat" and "Braised child under 10" and all of it, all of it, except you and those of us who remain?
Tamar, everything you ever did and said is part of that deep river flowing fast toward we know not where, and we're all standing in it together, and we are stronger and better and braver for having known you. We will all work hard to make this place better than we found it, for certain.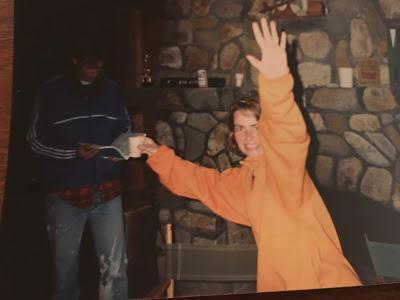 I love you, Tamar.
For Tamar Kitzmiller, 1954-2017.