So, we rent a house in our charming Connecticut town. It's a very sweet house, if a bit cozy.
"Cozy" is ALWAYS a euphemism for "this house is so damned small that I can feel your hot breath on my neck at all times" and "if you EVER check your texts while blocking a communal passageway again your phone is soon going to become one with your duodenum."
Our sweet, wee boys of blog entries past are now hairy teens (one of whom who jokingly dubbed himself "Massif Boi" the other day). They have horrid long limbs that are either flailing about, flung haphazardly over furniture, stuffed deep inside the fridge in an effort to extract ever more orange juice (legs may be included), or frozen in a gorilla-like clutch in homage to an electronic device.
(The 11-year-old gets a pass, as he is still comparatively small—much to his chagrin. "Why am I the shortest person in our family?!" he complained recently. "This is not fair. Is this to be my eternal fate?" He was encouraged by the promise of something called "puberty," which has yet to arrive.)
Our rental house has very little privacy. It has a truly awful basement that isn't even worthy of exploration, which is really saying something given that our former basement in Mamaroneck was lousy with man-sized hopping crickets and I still ventured down there.
There is basically nowhere to hide, except for inside a few closets that are stuffed with all the crap that doesn't fit anywhere else in this cozy house. The property is large and pleasant, with a bunch of trees and shrubberies in the lower half, bordered by a babbling brook. So one could wander down there and hide behind a tree, I suppose.
This wasn't quite what I was looking for when it came to a private oasis in which to seek my muse. I decided I wanted a "she-shed!" Nay, I coveted one.
She-sheds are mystical little places that are either converted out of old gardening sheds and abandoned kids' playhouses on one's property, built by hand, delivered in a clever kit, or constructed by lucrative she-shed carpenters. They are like "man caves" except they are absolutely riddled with whimsy and feminine creativity and "quaint details." Plus, they are out in nature and blend into their natural surroundings. I never heard of any damned she-shed stuck down in an old basement.
Here are some adorable examples.
Being a renter, I didn't think asking my landlord for a building permit would be a very smart choice.
But it just so happens that right off the living room of this tiny, really tiny, way too small, cozy little house is an unused greenhouse. There is literally a door from the living room that opens right into it! (Note: It is not a large greenhouse. You could not swing a cat in it without damaging the glass. You might be able to swing Schtinky Teddy, but that is another story.)
Of course, we noticed it when we toured the property. "How charming!" I thought. "I'll grow herbs in there!" I planted a few in pots and forgot about them. They died peacefully, unwatered and unattended. 
I forgot about the greenhouse. Until today.
I had an entirely new vision. I would clean the damned thing and make it into MY she-shed: An art studio and greenery which would be MINE MINE ALL MINE. My NEW greenhouse would be awash with vines and winter-loving plants. Cucumbers would dangle fatly from the ceiling, and I could just lean up and bite one while I sat there! A mobile made out of origami unicorns and flying fish and magical sea turtles would swing gently over my old drafting table, soon to be rescued from the garage! I would fill plastic tubs with art supplies! Plug in an aromatherapy diffuser! Play super awesome music and maybe hang some sweet-ass curtains and start to do macrame and all that shit! I might even meditate in there!
I WOULD GROW SO MUCH FUCKING MARIJUANA IN MY SHE-SHED!
(Kidding. Seriously! But some GIANT pot plants growing right inside the big glass windows of this greenhouse 
would
look really enticing to all those joggers and bikers and dog walkers and stressed-out moms that pass by my home, methinks. I could make some cash, methinks. I could afford a BIGGER she-shed with all that cash, made by reputable she-shed builders. Maybe I could even live in it full-time with my whole family in an adjunct "shed" built off the lucre of my Pot Empire, and I could also purchase a yacht.... NO NO NO never mind!)
So today I began scrubbing the green funk of 40,000 years off this little greenhouse. Brushing out the cobwebs and the long-leggedy beasties that have made it their home. (Good thing I am not scared of spiders. Hello, Charlotte!) I got up on a ladder with some Windex and some scrubbies and paper towels and went to work.
Then I went up to the 11-year-old's room (remember him? He's still cute and he doesn't even smell bad!) and we opened his window together. It looks right down on the greenhouse.
I said: "I am going to do something very ill-advised and dangerous soon and clamber out your window, stand on this ledge here, and scrub green funk off the skylights on this here greenhouse. Now, if you hear a scream and/or a loud thump, please do come out and check on me, okay?"
He checked out the scene and nodded at me very sagely. Then he grinned. "Yup," he said. "Okay. Okay, Mom. Got it!" He never even said, "What the HELL are you thinking, mother?!"
Yes, he shall be invited into the she-shed! Especially because cucumbers are the ONLY vegetable that he will eat. Also, he is still little enough to fit inside.
Updates to be posted. Here are the early photographs of this project: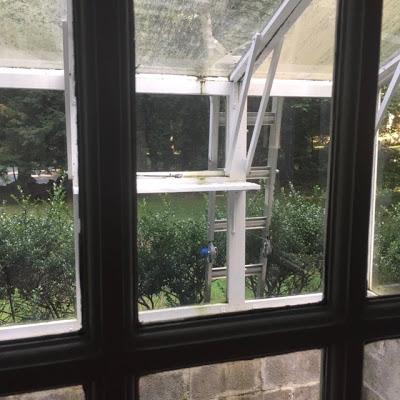 View from the living room into the greenhouse.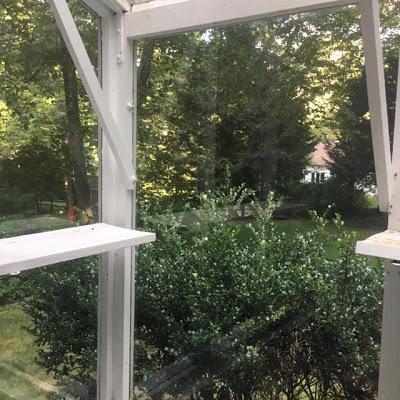 After cleaning some of the glass.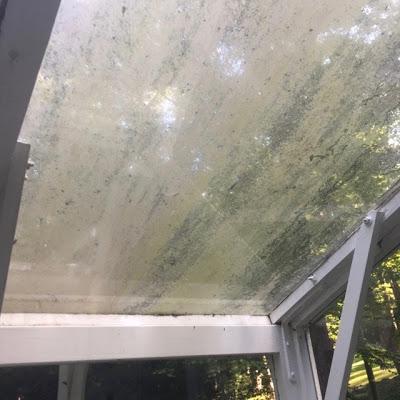 Green Funk!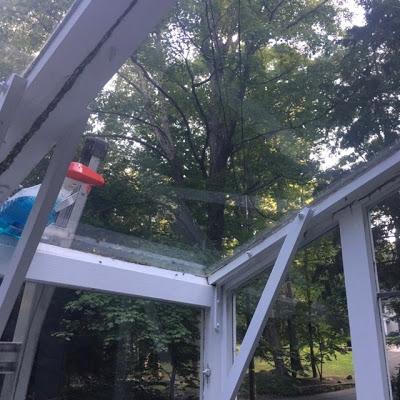 Green Funk begone!