At first mention, sour grapes don't sound very appetizing.  However, they have a strong pull to be consumed.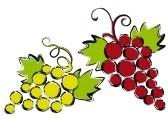 Why on Earth would someone want sour grapes?
You don't necessarily WANT them, at least not outright.  The desire for these grapes happens covertly.
Case-in-point...you have a need in your life.  You pray and pray and pray for God's touch or provision.  Those around you are blessed with the same thing YOU need and have been praying for.
Sometimes it's easy to rejoice with them and their blessing.  But sometimes the "why not me, how come them" takes over and the eating of sour grapes ensues.
I don't write this from a standpoint of superiority.  I write from a humble place of experiencing it first hand.  Eventhough I can't see the forest through the trees, I know God is for me.  Eventhough I don't understand why we are in this holding pattern, I trust in His infinite wisdom and timing.
His ways are not our ways.  So, I can resist the temptation of the sour grapes and do His desire for me one day at a time.  I can find joy in these steps because at the end of it all, I know the harvest is coming.  And this harvest does not contain any sour grapes!
Galatians 6:9
Let us not grow weary doing in doing good, for at the proper time we will reap a harvest if we do not give up.SPECIAL OFFER FOR Homeschool Circus SUBSCRIBERS through Jan. 31 Early American library is free with purchase of any curriculum CD. Use code LISAtips for a $19.99 discount when you buy any curriculum CD Library plus Early American library. This post written and property of Homeschool Circus and can be found at: www.upatdawnreadytowork.com.