Never before has Miranda Priestly's words in The Devil Wears Prada been more true than in the current Spring Summer 2011 season.  One of my favorite scenes is when Miranda lectures Andy on the origin of the color of her sweater.
Season after season Miuccia sends inventive and beautiful collections down the runway and her influence is everywhere right now.  Simply take a walk through your local shopping mall and you will be overwhelmed with stripes, color blocking, impossibly high stacked wedges, hot pink clutches, and color combinations like blue and green and pink and orange, pink and navy (which I adore by the way).  Her Spring Summer 2011 collection is blazing a trail through chain stores, magazines, on the mannequins in store windows, cushion covers and accessories.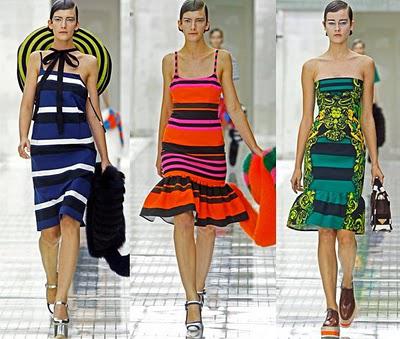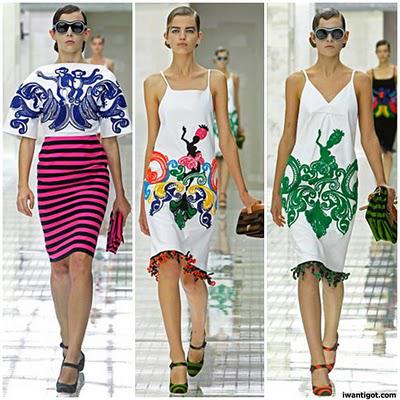 Miuccia's collections are a complete expression of herself, she makes her own rules.  I read somewhere that Miuccia will choose a color that she despises, because of the rush it gives her when she can make something beautiful with it.  If you haven't seen the Prada Spring Summer 2011 runway show, you can watch it below. 
I must also mention her latest collection of shoes from the Spring/Summer 2012.  I want to know, what must they be like to wear?  I wonder, do they make you want to fly?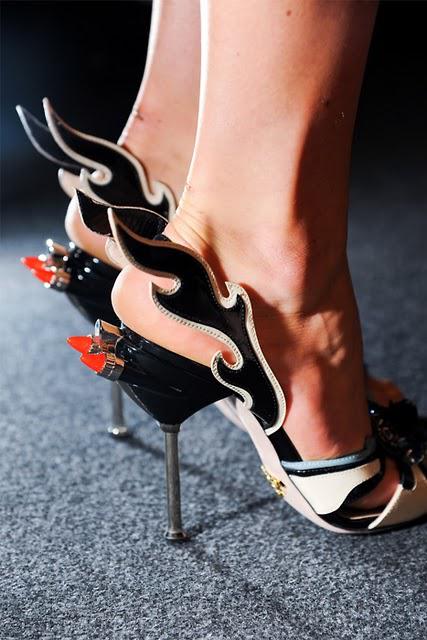 Because I sure would love to fly...
Kisses!
Heidi