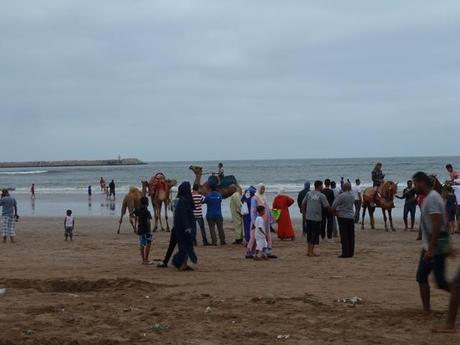 "Marrakech is the best city in Morocco," every Marrakchi person tells me, always. "In the morning, you can eat bsara in Bab Doukala, and in the afternoon, you can be sitting on the beach eating fish, or in the mountains playing in the snow. Everything is close!"
If a city's best asset is its proximity to other things, well…let's get brainstorming on a better slogan ASAP. But I have to say, as a Peace Corps volunteer who gets the itch to leave Tameslouht every once in awhile, I really can appreciate this city's location. Last year, with a new boyfriend who wanted to share his country with me, I got three beach trips in one summer– all within 3 hours of Marrakech. This year, now that I'm old hat, it was me who had to do all of the convincing that I still deserved a break from the 110+ degree weather in Tameslouht.
Kidding! Mustapha had been puzzling over which beach we should select for summer vacanze, and we finally settled on Essaouria, our destination station for last year's Gnaoua music festival. The mental image of cool beaches and lovely remnants of Portuguese oppressors got me through Ramadaan, and the promise of salty water on my clothes and sun on my skin made the work schedule of the artisan camp totally easy to deal with. However, doomsday fell when Mustapha called his friends already in Essaouria and we learned just how expensive the rent for an apartment was. Plan B? Call every single person you know until you find out that one of your friend's friend's is staying in an apartment in El Jadida, and they would be happy to have you stay with them. Within 24 hours, the entire trajectory of my vacation shifted North and added about 6 additional people to my romantic couple's vacation. The more the merrier??
So, we're off! Mustapha and I and two of his buddies hopped into a taxi for our "bsara in the morning, fish in the afternoon" vacation. We arrived in the early afternoon to find almost all of the roads blocked off due to a….car race? You've got to be kidding me. Cement barriers lined the streets, basically offering three feet of compressed rock as protection between the speeding cars and the massive amounts of spectators. I channeled every fiber of my being to prayers of protection for me and everyone else stupid enough to within earshot of these cars whenever we left our apartment that day, and the next, as they whizzed past us and everyone except me cheered.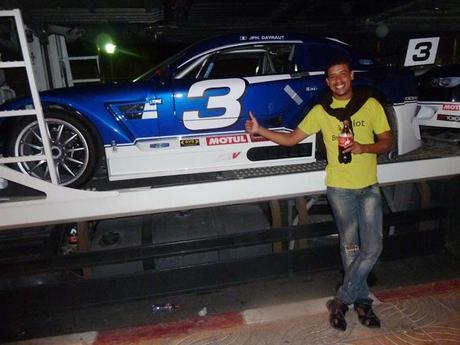 The cars weren't as scary when they were secured in large trucks.
Even though this isn't my first trip to El Jadida, it was the first time I noticed how wilted the little town is. Our apartment exemplified the feel of the city– everything in the space was sea-worn, soaked in salty air and littered with the impressions of every renter who had passed before us that whole summer (and every bottle they had emptied along the way). Even though spots of the city have truly beautiful architectural remnants of the Portuguese, everything mostly just looks tired.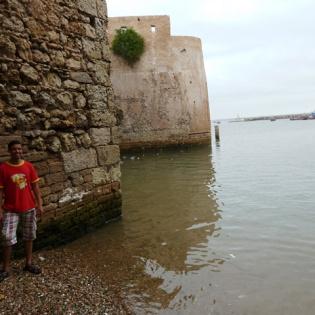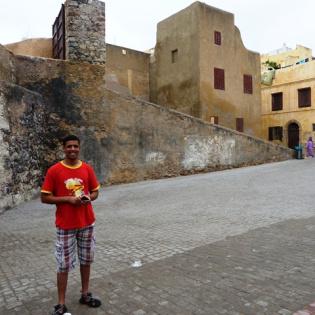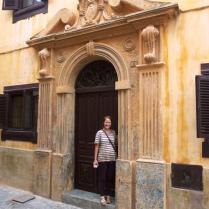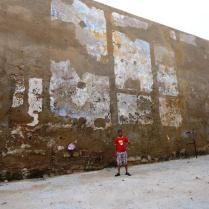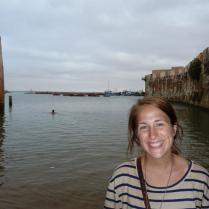 As explained to me by Mustapha, the economy of this town is totally defined by the summer tourism of Moroccans. Period. I personally felt the lack of fellow foreigners when walking along the beach and didn't see any of my token sore-thumb tourists in their barely-there bikinis or holding their manicured dogs. Also– no sunbathing. Like, walo. As I sat wrapped in a blanket underneath a rented umbrella (next to my fellow Moroccan women also concealed by their own garments of choice), I realized that this, my friends, is the biggest difference between American and Moroccan beaches (apart from the jellebas). Even the girls who chose to wear bikinis did so in the safety of shade. So, here we are, staying cool: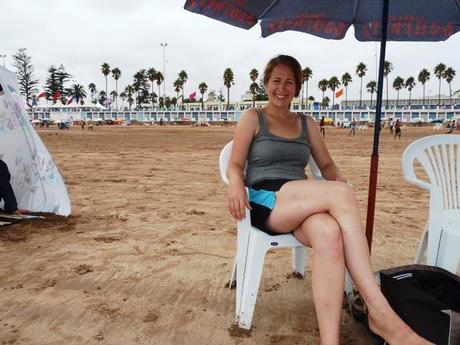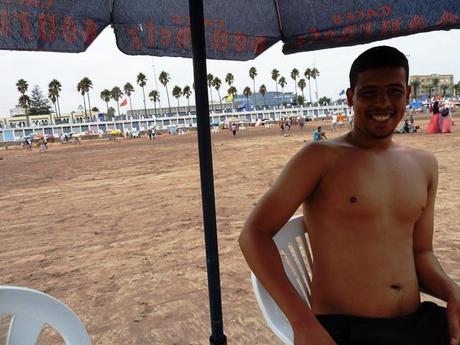 This is pretty much how we were situated for the next few days, minus a few impromptu workouts. Not mine, of course.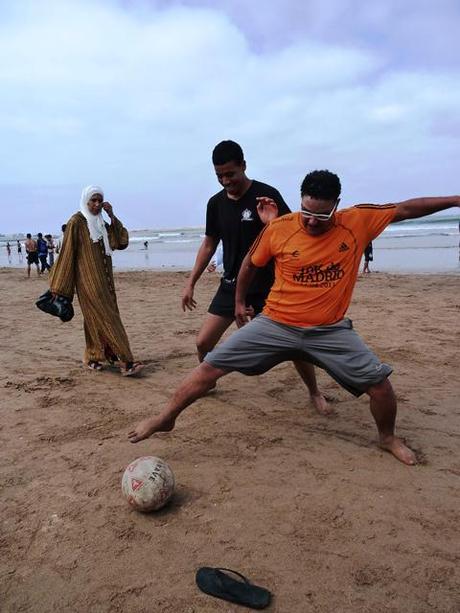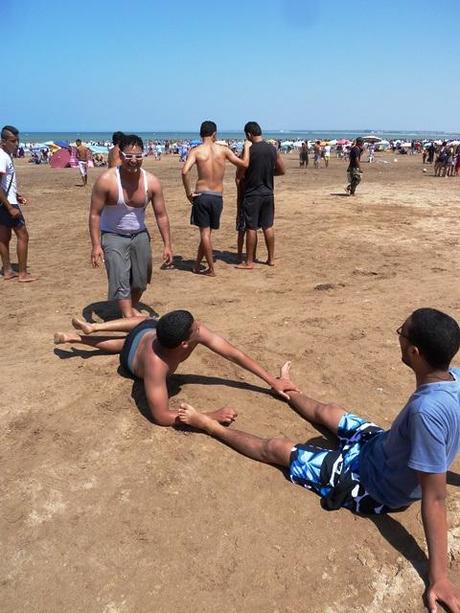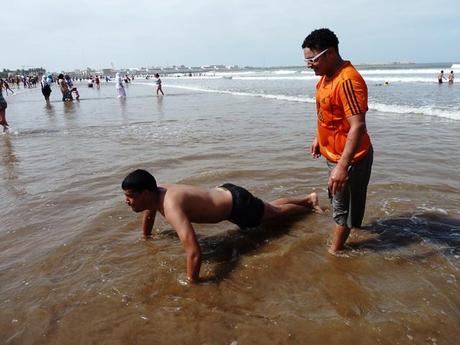 And then the angel of death appeared. In the form…of a fig.
It happened two nights before we were supposed to leave. I was looking forward to another full day at the beach, another delicious lunch of fish, another sunburn, another frolicking session in the waves. We were eating a tajine for dinner, followed by some fresh figs. I was pretty full, so I only had one. Then, off to bed.
Now, I should mention that my stomach has been through a lot in this country. A whole new culture of microbes & strange foods, lots of traveling, lots of wear and tear. And my stomach has been quite a trooper, never taking more than a few days to recover from any given blip in my diet. So, when I continuously woke up during the night with extreme stomach pain, I remember thinking to myself, "Just go back to sleep, it'll go away by the time I wake up"– like a true Peace Corps volunteer. I woke up and still felt woozy…uh oh. The thought of eating even just bread for breakfast was so nauseating, I made my first trip (of several) to the bathroom and, well, got to see my evil fig in all of its thrown-up glory. Goodbye, dreams of having a fun last day at the beach.
After reassuring my comrades that no, there was absolutely nothing that they could do to help my situation, they left me for the beach and I got to hang out by myself all day in bed. I didn't necessarily feel better by the time I returned– but, I was so stir-crazy from doing nothing (I watched the VMAs, so yeah, nothing) AND I had to listen to their stories about how much fun the beach was (Mustapha got a tattoo?!) that I insisted we go to the nearby cafe with wifi…mainly so I could email my dad and get assurance that my last few days on earth would not be in El Jadida. I was promptly diagnosed via phone call with a case of Staphylococcus by Dr. Dad. You can see how well I was feeling in this picture.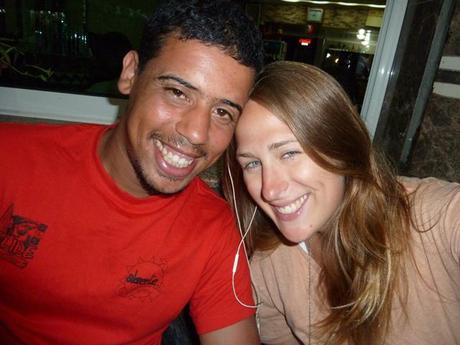 I only threw up once more after this picture, on the way home to Tameslouht! That's improvement!
Apart from the food poisoning, Mustapha's wallet pulled a Harry Potter invisibility cloak on us. He got in the habit of giving me his wallet every time we headed out the door– I was holding our towels, dry clothes, and my purse in a large beach bag, so it made sense to combine forces and consolidate our goods. The day before the evil fig started WWIII on my digestive tract, Mustapha asked for his wallet so that he could go grab some snacks. Yay, snacks! Oh no….wallet? The wallet wasn't in my purse, where we both last remembered it being. We mentally re-traced our steps and searched the apartment– gone. We're convinced that no one took it from my purse, because my own wallet, iphone, and camera were packed on top of where it had been, and were still there…but at the same time, we were equally sure that it wasn't in the apartment, since we searched every nook and cranny for it. So, goodbye, identification & bank cards, money, and several other important bits of info! We hope you enjoy your permanent vacay in El Jadida.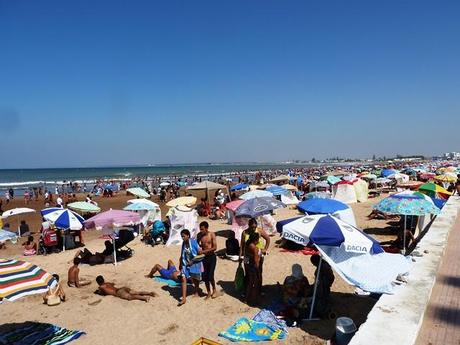 So, fellow blog readers, where are we going from here? Another Moroccan summer is pretty much over. We (Peace Corps volunteers who came to Morocco in September 2011) have our close-of-service conference in September, followed by a regional meeting, followed by…the end. Seriously. Our official close-of-service date is November 17th, with some volunteers leaving before. Wow, a day I felt at so many points would never come. I, however, will be staying in Morocco until March 15th, thanks to an extension from Peace Corps! What the heck can I accomplish in 4 months after spending 27 months here already? Valid question. My extension will be devoted to continue working with the lovely women artisans, helping them with some projects they are interested in completing and many trainings that will have them operating their association independently of outside help by the time I leave. All inchallah, of course. So yes, many mixed feelings about the upcoming timeline, but all you need to know for now is that you get 4 additional months of blog updates from my dusty little corner of Morocco. Adventures are sure to keep coming!