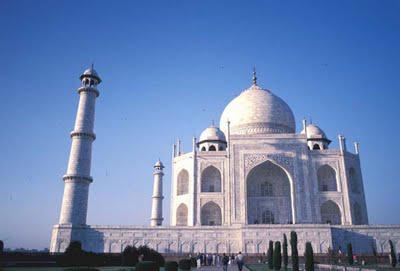 In the spring of 2000, I went to India to do an author visit at the American Embassy School in New Delhi and was taken to see the Taj Mahal. Despite all the pictures I had seen of the Taj Mahal, I wasn't prepared for the impact of its beauty as I stepped through the gate and saw it for the first time.  When I returned home, I met with my friend, Madeleine Comora, and proposed that we could write a book together. I knew that she was also interested in the story of the Taj Mahal and that she had recently been there with her husband Rahul Bushan.
   Madeleine and I spent about two years working on the manuscript until it reached the form that you see in the book. Then, during the editing process, we continued to make changes to coordinate the text as closely as possible to the illustrations.   As with all my nonfiction books, my favorite part of the writing process was the research for the book. I have always been fascinated by India, and learning more about the Mughal era gave me a deeper understanding of many of the places I visited when I was there.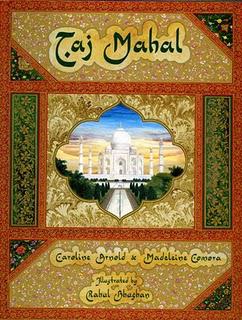 It always takes longer to collaborate with another author than to work on a project alone, but in an ideal collaboration, the combination of two people working on a project provides a product richer than either could do alone. In this case, I brought my nonfiction skills and publishing experience to the project and Madeleine brought her wonderful sense of poetry and connection to Indian culture through her husband Rahul. Each of us wrote sections of the story and then we went through the whole book together line by line, making changes to unify the tone and character of the manuscript.
   In addition to our personal experiences visiting the Taj Mahal and other monuments of the Moghul era, our research material for this book included historical documents, academic writings, books and articles about India, and talking with experts. We also asked experts on the Mughal history of India and on the history of the Taj Mahal to read the manuscript to check it for cultural and historical accuracy.