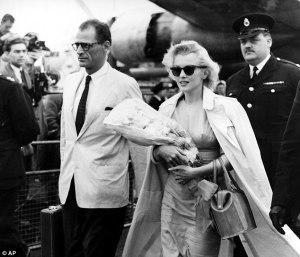 The mysterious death of the ultimate blonde bombshell, Marilyn Monroe, has always been linked to either John or Robert Kennedy by conspiracy theorists. LA coroner, Thomas Noguchi officially pronounced it a suicide from drug overdose although no trace of drugs was found in her digestive system and no needle punctures were found on her body.
  In today's Daily Mail, is an account of the the FBI's release of some files documenting her connections with known Communist agents that they kept on her from the mid-1950s to her untimely death in 1962.
Hill Street Blues actress, Veronica Hamel's bio on the Internet Movie Database, provides more documentation of the FBI's surveillance of Marilyn Monroe:
In 1972 she and her then husband became the new owners of Marilyn Monroe's Brentwood home. They hired a contractor to replace the roof and remodel the house, and the contractor discovered a sophisticated eavesdropping and telephone tapping system that covered every room in the house. The components were not commercially available in 1962, but were–in the words of a retired Justice Department official–"standard FBI issue." This discovery lent further support to claims of conspiracy theorists that Marilyn had been under surveillance by the Kennedys and the Mafia. The new owners spent $100,000 to remove the bugging devices from the house.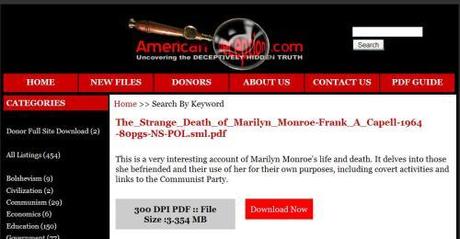 The AmericanDeception.com website has the out-of-print 1964 book in pdf format, "The Strange Death of Marilyn Monroe," by former police detective turned private investigator,  Frank A. Capell.   His investigation results published two years after her death document that her medical doctor, psychiatrist, personal assisstant and housekeeper all had communist party ties going back decades! It reminded me of the "Sleepers" described by Yuri Bezmenov in the "Sleepers and Messiahs" post.   The Capell book convinced me that she was most definitely murdered and the communists who comprised her inner-circle were involved in the crime and coverup.  
To download the book, go to AmericanDeception.com and search "Marilyn Monroe"