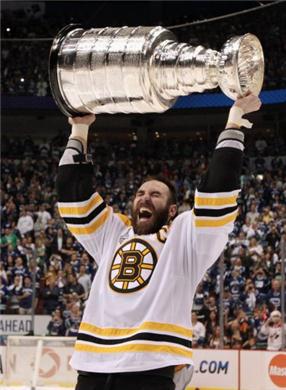 The Stanley Cup is coming to the Beverly High School Field House in Boston Massachusetts this Sunday.  Boston Bruins Assistant Director of Media Relation's Eric Tosi is bringing hockey's Holy Grail to his hometown for a special viewing at the Beverly High School Field House (100 Sohier Road), as part of a special fundraiser for the Benjamin T. Bradley Foundation, Sunday, Sept. 4, from 11:30 a.m. to 2:30 p.m. Founded in 2001, the Benjamin T. Bradley Foundation is a certified non-profit corporation that engages in fundraising activities in the memory of Ben Bradley, a 1999 graduate of BHS and member of both the baseball and hockey teams. Bradley went on to play collegiate hockey at Framingham State. He passed away in an automobile accident in 2001 at the age of 19.  Among it's many charitable activities the foundation has hosted an annual beach volleyball tournament at West Beach in Beverly Farms each August. The tournament raised $100,000 for the Foundation in its 10 years. Fans will be able to get close to the cup on Sunday. For a $20 donation, fans will receive a green ticket to take a photo with the Cup. A family of four may buy one ticket and take one picture together, or donate $80 to buy four tickets and take four separate pictures. Photos will be capped at 500.
For $5 per person fans may also receive a red ticket and admission to view the Cup from the Field House floor. No photos with the Cup on stage are included with this ticket.
Both the green and red tickets will also enter the donor into the BTB Foundation raffle.
The grand prize is two tickets to the Bruins/Panthers game on Thursday, Dec. 8, along with a postgame meet-and-greet with Bruins forward Shawn Thornton.
First prize is a team signed stick signed by the Stanley Cup champion Boston Bruins.
Second prize is a Patrice Bergeron autographed jersey.
twitter
@justfundraising