I like to think that I am in good physical shape. I can run five miles without stress, go to spin class a few times a week, can almost accomplish crow pose in yoga , and enjoy kicking my own butt in kickboxing. However, today I found myself marveling at the concept of stairs.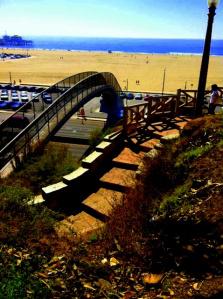 Walking up the stairs from Santa Monica beach yesterday, each step was small and sturdy. Maybe a half a foot high and many feet wide, these steps did not appear to impose any type of threat. There were no large obstacles, no dangerous terrain, and no tricks. Simple stairs.
Then why did I get so out of breath?? Holy shiva.
Going back on the observation by many people who say that, "I think too much," I could not help relating these stairs to the journey of life- especially the current status of my life now.
No matter how small, growing, learning, and taking steps forward can be exhausting.
I find that this is one of the most challenging parts about being a young person. Those of us striving for greatness are constantly trying to invent and reinvent ourselves. We are networking, we are interviewing, we are auditioning, we are recording new songs, we are going on new dates, we are reading new books, and we are writing new stories. Each step may not seem daunting because we are motivated and ambitious. Yet the cumulative total of all these steps can make for a very frightening staircase.
I am totally struggling with my staircase! Not only does each step push me further out of my comfort zone, but I do not even know where these stairs are taking me! After tripping up a few stairs and almost falling backwards, it can sound a lot more appealing to stop, set up camp on one stair, and stay for a while. I say go for it!
The LA young people are all trying to break out of ordinary and into extraordinary. But sometimes, we need a break. It is okay to get tired, to take some time off, and to celebrate being young and beautiful! The key is not getting stuck in party-mode for too long because then you may forget how to climb stairs.
Regardless, we should all be proud of the small steps we are taking and not just the big ones. And remember, we may be struggling at times, but at least we look good doing it.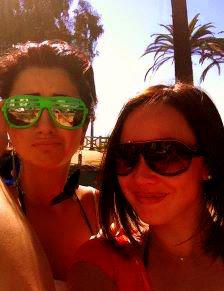 love,
Cleo
Advertisement
Eco World Content From Across The Internet.

Featured on EcoPressed
Solar Mosaic, Kickstarter for solar aims high