My favorite types of people have always been the ones that shock me. The more witty, insightful, wild, poetic, or vulgar you are… the more I probably like you. I possess an inherent dislike for all things boring. If you are not grabbing my attention, you are probably losing it. No wonder why I love the gays!
As with everything however, there must be a balance. Please do not shock me by how much you can talk, how rude you are, how bad you smell, or how many of my texts you can ignore. I tend to steer clear of the shockingly passive-aggressive or overly-argumentative people as well. I just want to have fun.
Even with all the ways in which you can get to know someone, it is still a challenge to deduce exactly what type of person a friend, lover, coworker, booty call, or neighbor may be. An individual may be fun and witty, but add two-faced and manipulative to the mix and I will put you in the trash pile. (Have you seen the TV show Hoarders? Bam! Here today, gone tomorrow).
We all go through phases and we all [are supposed to] grow up from time-to-time… Lord, do I know this! By no means do I expect perfection.
I am a person that likes to take career risks, love risks, and to embrace creative projects. I do not want to limit myself to a few skills or memories, I want many! As exciting as this is, it is almost just as fun to see how the people in my life respond.
When toying with an idea I am unsure of or debating whether or not to make a change in my life, there are definitely some people I can count on for endless support. There are others that will provide great perspective. There are some that will have virtually no input. However, it is always shocking to me to see who the negative, doubtful, and discouraging ones are.
This is when I decide that there are people I would rather just keep secrets from. I always feel obligated to be 100% honest when someone asks, "What's new?" or, "How are things going?" I hate generic, one-word answers. BORING. I want to tell them exactly what is going in my mind, what new endeavors are happening, why I think I'm in love, and what my dream was about last night. Nonetheless, it is true that replacing my impulses responses with mundane answers such as, "Good, you?" are necessary at times.
This little open book is becoming more selective. Inclusion into the secret Cleo club is by invitation only.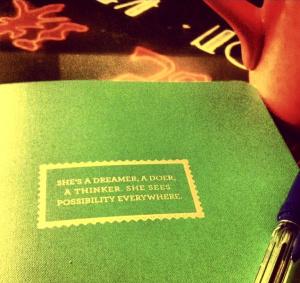 I encourage you to be choosy in who you allow to participate in your inner life. Having secrets can be fun and can help keep you on track to happiness.
Sincerely Yours,
Cleo