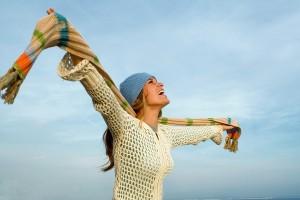 Make a firm decision about your happiness and commitment to your relationship with God.  Living alone, contending for sexual purity, single parenting, and societal pressures can take a toll on the single life.
When I made a firm decision that I would not let those issues or any other get the best of my happiness, I reached the road of contentment.  God will help every step of the way.
I made a decision to no longer be distracted or deprived from my right to be happy.  Not only did I claim my happiness but I wanted to make my Heavenly Father happy with the life I live.  This meant no catering to fleshly desires.  To overcome temptations, I had to want God's blessing more than anything else.
Be vigilant.  You could be having the best week of your life.  Then suddenly without notice, something comes along that may throw you off course.  You see an old boyfriend with someone else.  Someone fills your ear about why you should be married by now.  Your hormones remind you that they are not going anywhere.  There are a number of obstacles that may arise.
Be watchful and guard your heart.  To maintain strength and happiness filter out negativity and foolish advice.  Sometimes you just have to walk away and mute conversations that may drag your spirit down.  When making a declaration to live a single life free of sexual immorality and depression, someone is there to tell you that it's not possible.  But we can do all things through Christ who strengthens us.
Stay focused.  What are your dreams?  What blessing does God have designed just for you?  How will you attain them all?  By staying focused on what was ahead, I gained strength to keep moving forward.  Temptations lost their appeal when I thought about what God had in store for me.  My destiny was set.  But if I lost focus along the way, I would have changed the course of it.
Decisions made today are based on how I visualized my future.  Staying focused on God's plan dissolved sadness and feelings of loneliness.  I no longer saw my life as an empty space in need of another person to fill the void.
My life was complete in Christ and there was a journey to enjoy! ;D
I pray this post helps you to overcome and take control of your single life.  Do not retreat.  Do not surrender.  This is YOUR single life.  The opportunity for a life full of love, integrity, peace, and happiness is in your hands.
Blessings!
-Candra