The Single Life More Abundantly T-Shirt…Reserve yours while they last!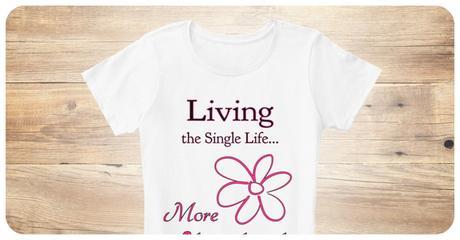 Living the Single Life… More Abundantly John 10:10
This week I am launching the first of several t-shirt designs for Christian Singles. Click here for full view!
This is a wonderful way to celebrate your faith and your abundant life in Christ! Message tees minister the gospel of Jesus, bringing light to a dark world.
The thief cometh not, but for to steal, and to kill, and to destroy: I am come that they might have life, and that they might have it more abundantly. (John 10:10 KJV) #Jesus
We are overcome with negative messages reminding us of what we don't have. We have an adversary that comes to steal our hope and joy. Let us remember the gift and opportunity of abundant living.
In every season there is an abundant harvest. In one there is an abundance of knowledge. In another there is an abundance of rest. Another season holds answered prayers grown from our seeds of faith.
Your season of singleness will not last always.  Now I know I can get an Amen on that one! 😉
Yet before you leave this stage, glean all that God has for you. Some blessings are only for this time, necessary to prepare you for what is to come.
There is provision for you in this season. Do not pass it by longing for next season's harvest. Let God root it and bring it to full maturity. Then the next harvest will be ready for you and you will be ready for it!
Reap. Glean. Feast on your blessings for the day! Don't lose focus.
Live your single life more abundantly!
Reserve your "Single Life More Abundantly" T-Shirt below and stay tuned for more! 
U.S., Canada and International shipping is available. Desire another color? (Not every girl likes pink :)) Feel free to email me with your suggestions!
Your humble sister servant in Jesus,
~Candra Evans
Abundantly You for Christian Singles and More