Releasing a YouTube video, the team behind this geeky set explained how far they came to make this LEGO set into what it is today and also gives us a tour of the set. With 6 minifigs including Homer, Marge, Bart, Lisa, Maggie and Ned Flanders, the official set comes with 2,523 pieces which packs almost everything that you saw in the house in The Simpsons's TV show into this brilliant LEGO set.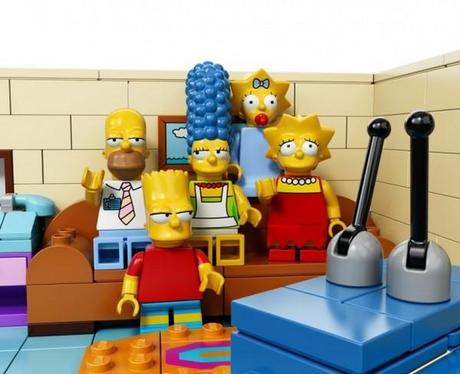 Read Also: Fully Functioning Life-Size LEGO Car Made With 500,000 Pieces
Here are some of the feature of the LEGO Simpsons House -:
First floor includes yellow and light-blue tiled floor, sink, oven and stove, drawers, cups, pot, pan, bowl, mixer, plates, cake tins, cutlery, dining table and 4 chairs
Living room features TV playing Itchy and Scratchy, couch, boat painting, telephone, carpet, purple piano and staircase to the second floor with family photos
Bart's room features a bed, night lamp, desk with pin board, chair, Krusty the Clown poster, skateboard, shelves with books, radio and a cap
Marge and Homer's bedroom features a bed, 2 side tables, Maggie's crib and Marge's bag
Lisa's room features a vanity mirror with hairbrush, stool, bed, table with lamp and cup, shelves with books, magnifying glass, backpack and a jazz poster on the wall
Bathroom features a shower, toilet, sink and a mirror
Detachable garage features the family car, tools, workbench, tool rack, vacuum cleaner, toolbox and a broom
Family car with space for 4 minifigures features a dent in the front and an opening trunk to store Homer's suitcase and a 'radioactive' bar from the nuclear power plant
Outside area includes a grill, wheelbarrow and air conditioning unit with 'Property of Ned Flanders' decoration, sausages, 2 garden loungers, flowerpots, a shovel, 2 fruit cocktail glasses, Lisa's camera, Bart's skateboard ramp with 'El Barto' graffiti and an antenna on the roof
Remove the roof and top floor to access the different rooms inside
House is hinged in the middle for easy access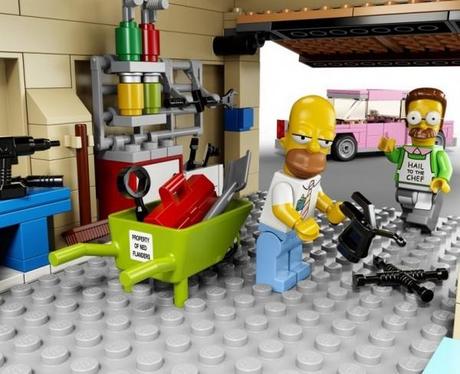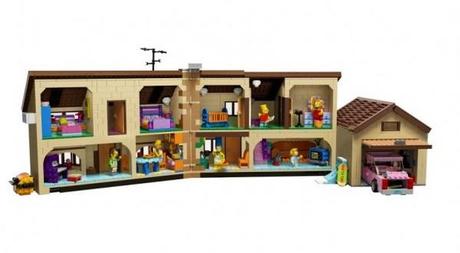 The Simpsons House LEGO set will cost $200 when it's released in February 2014. Check out the video to see more.
[Via: TechnaBob / YouTube]
(All images, trademarks shown on this post are the property of their respective owners)
Follow @nrjperera – Roshan Jerad Perera