It all started because I needed some new placemats.  My preference:  I like them sturdy and heavy enough to not curl up and wrinkle after putting them in the dryer.
We're a placemat kind of home.  No tablecloths (unless for a special occasion), just placemats.Once in awhile we go without anything, but almost always, we use placemats.I don't know why, but I prefer to use them.And I like a placemat that looks nice and goes with my kitchen colors.
Well, it just so happens, in the beginning of winter I came across a HUGE summer tablecloth on clearance for dirt cheap.  Nice, sturdy and thick fabric.Plus, it was bright and bold and blue.  It had to go in my kitchen.  But.. I don't use tablecloths.What else is there except to cut it up and make some placemats!  So I did.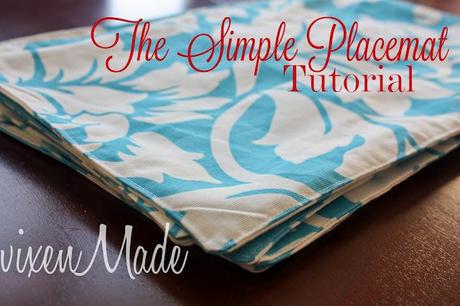 It took me all winter to finally do it, as you can see.But I love the blue and the print is perfect for my kitchen.
So let's move on to how to make a Simple Placemat.
What you need:home decor fabric (I made 8 placemats out of a 65" tablecloth, with more to make... pillows!?)measuring tape or old placemat to use as a templatescissorsironsewing supplies
Here is the huge tablecloth before I attacked it with the scissors.
You can measure out an old placemat with a measuring tape, or just use the placemat as a template as you cut out each piece.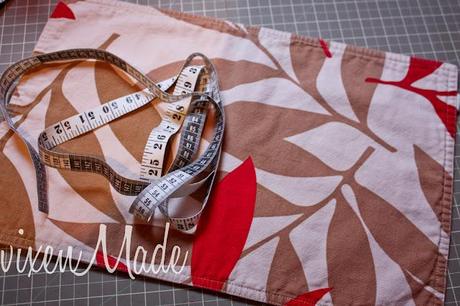 Mine measures 11.5" x 18".  So you'll want to add an inch all the way around for seam allowance.For each placemat, I cut out two pieces so it would be reversible. (Be creative and use a different print/color on the other side if you like!)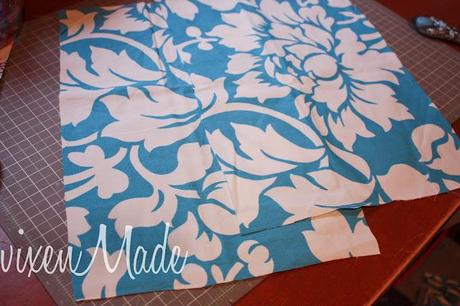 Be sure to iron out your fabric pieces (preferable before you start cutting, but my fabric was so big and heavy that I did it after).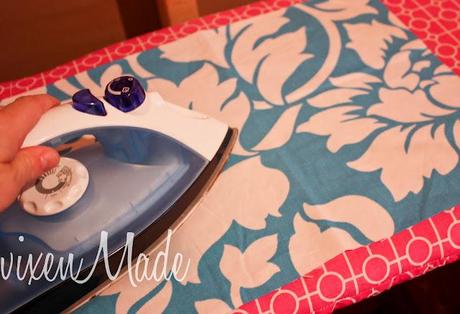 Now sandwich the pieces together, right sides facing in.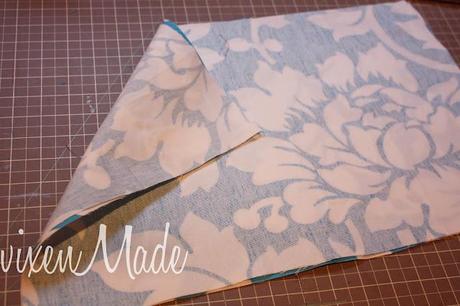 Pin together and sew around the perimeter, leaving a 3 inch gap for turning.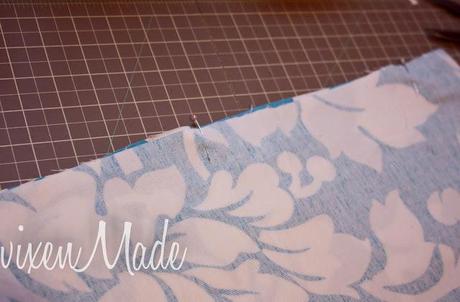 I used a 1/2-3/4" seam.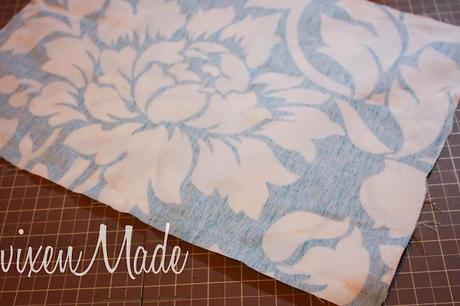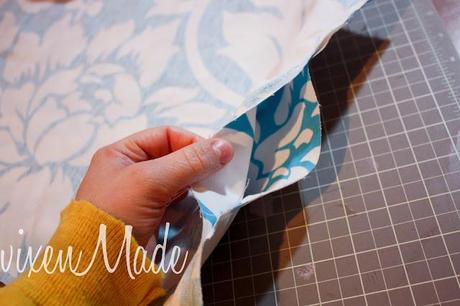 Trim off any excess and clip your corners.  It's easiest if you only have a 1/4 to 1/2 inch border so there's not too much excess.  This makes it easier to press and sew flat when flipped right side out.Also, if you're worried about fray over time, you can zigzag stitch or serge the edges.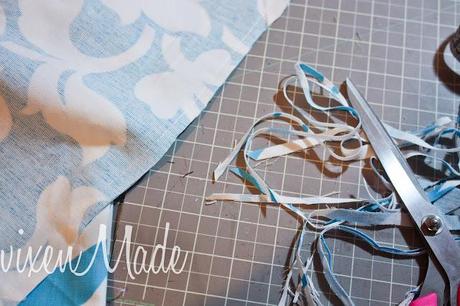 Flip your placemat right side out, poking out your corners.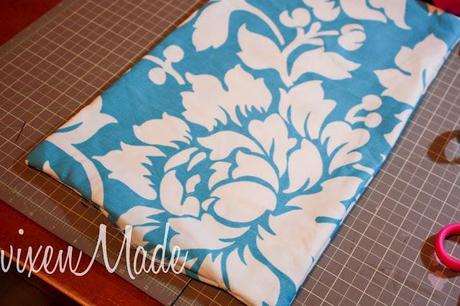 Press all your corners and edges with an iron.  Also, folding under your opening and pressing with your iron.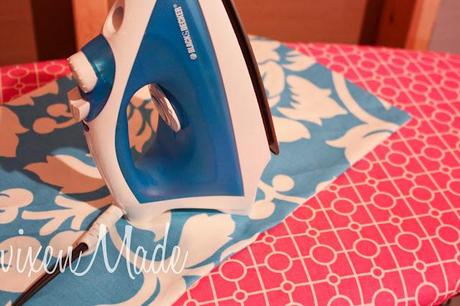 Now sew around your entire edge using a 1/8 to 1/4 inch seam.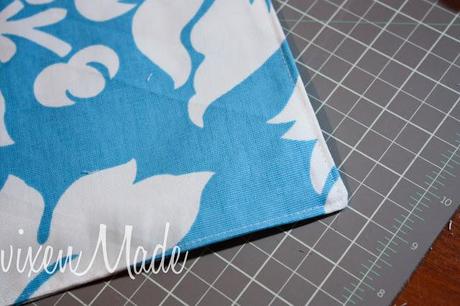 You're done.  Now to make more!  I made 8.. that was enough!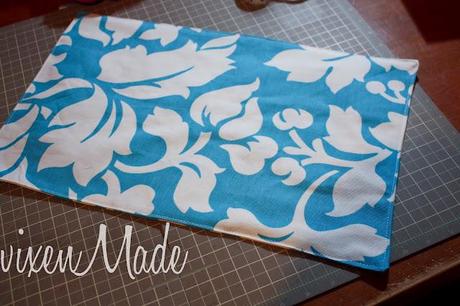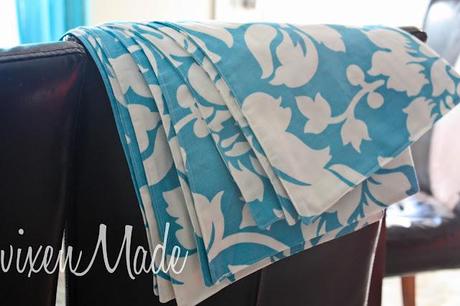 Aren't they much funner as placemats?!  They feel so free!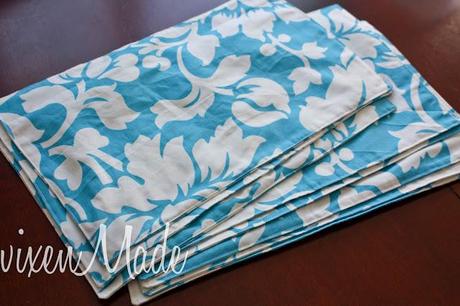 And they work for me.  Considering I spent about 10 bucks on the tablecloth, I was able to make 8 double sided placemats and more for pillows or any other project!  Great deal!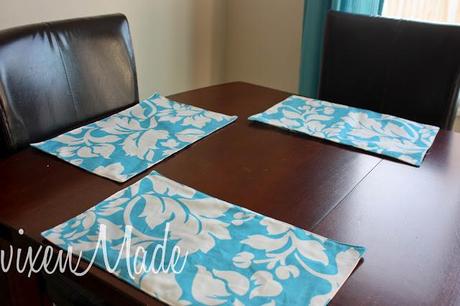 Thanks for stopping by!
Remember to enter my Blogiversary giveaway or take advantage of the 20% off at the Etsy shop!  (Click below for details)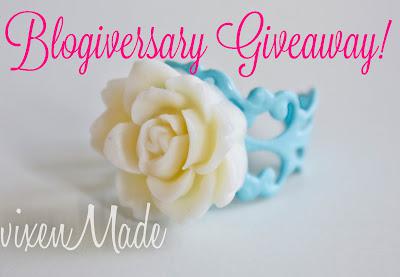 I link up here!