After back-to-back reading challenge fails, here I am trying one again. This time, instead of attempting something completely out of my league, I thought I'd try focusing on a genre I really enjoy - thrills and spills. Hence, the cloak and dagger reading challenge hosted by Stormi @ Books, Movies, Reviews! Oh My!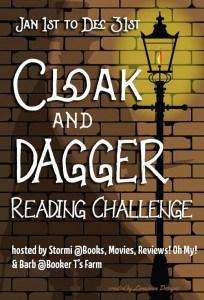 There are 4 levels:
1-10 books - Amateur sleuth
11-20 books - Detective
21-30 books - Inspector
31+ books - Special agent
Although I'd like to read more than 10 books, for now, I am going to stick to the first level - amateur sleuth.
And with that, I am going on to review the first crime novel I read this year.
The Silkworm
When novelist Owen Quine goes missing, his wife calls in private detective Cormoran Strike. At first, Mrs. Quine just thinks her husband has gone off by himself for a few days-as he has done before-and she wants Strike to find him and bring him home.

But as Strike investigates, it becomes clear that there is more to Quine's disappearance than his wife realizes. The novelist has just completed a manuscript featuring poisonous pen-portraits of almost everyone he knows. If the novel were to be published, it would ruin lives-meaning that there are a lot of people who might want him silenced.

When Quine is found brutally murdered under bizarre circumstances, it becomes a race against time to understand the motivation of a ruthless killer, a killer unlike any Strike has encountered before.

~ Synopsis from goodreads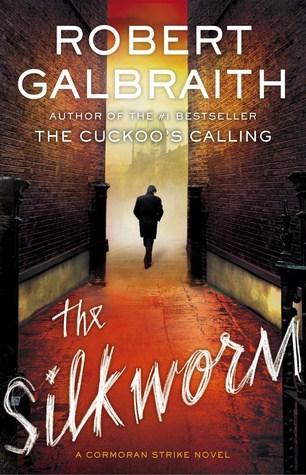 This is the second book in the Cormoran Strike PI series written by J.K.Rowling under the pseudonym of Robert Galbraith.
I don't know what to think about this book. I liked it for the most part, but then I like most mysteries unless they are really awfully done. And Rowling is too much of a class act to push out a bad book.
That said, I think there were a few issues that I couldn't look past. Mind you that is because my expectations of Rowling are sky-high. In any other author/book, I would not be so nit-picky.
I didn't really like Cormoran Strike all that much. Granted a detective doesn't have to be likable, but still I found him annoying. If I met him in real life, I would have just dug into him about his distance from his friends and family.

For example, there is his well-meaning sister doing a nice dinner for him, inviting his friends, and he is just grumpy and worst of all, brings a girlfriend at the last-minute without even informing the hostess. Tsk tsk!

The book is a bit too slow in parts. For the amount of plot and suspense it had, the book could easily have been edited down to make a faster, more thrilling read. Right now, the pace was just about ambling along, and I could and did put down the book for lengths at a time when usually I sit and read thrillers late into the night biting my nails with suspense.
That said, I thought there was a wonderful literary quality to the book. All the more so because the book is set in the publishing industry, which lends itself to some mild satire. I had great fun trying to figure out which fictional character was derived from a real one. I did recognize one person as based on Sylvia Plath, and another one based on Martin Amis, I think?
Overall, this book was a slow boil. Not atmospheric enough to make it memorable, and not fast-paced and twisty enough to make it thrilling. However, I also remember that I didn't much like Rowling's first two Potter books, and it took me the third one to really get hooked on to the books and the writing.
I am hoping that will be the case with this series too, and so do plan to read the other two books published in this series so far, before I make any judgment on the series as a whole.
What about you? Have you read the Cormoran Strike books? What did you think of them?

You can also purchase a copy of this book from Amazon