Can you see His face in the drawing below?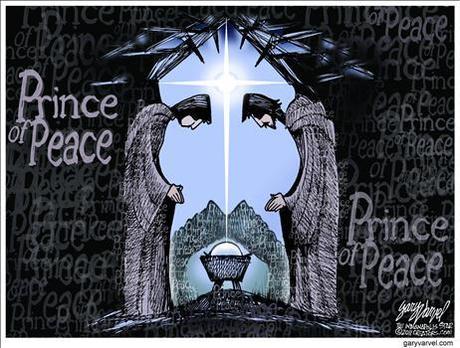 Today is December 30, five days after the world celebrated the birth of Jesus the Christ.
In Luke 2:10-12, it is said:
But the angel said to them, "Do not be afraid. I bring you good news of great joy that will be for all the people. Today … a Savior has been born to you; he is Christ the Lord. This will be a sign to you: You will find a baby wrapped in cloths and lying in a manger."
Much has been made — and rightly so — of the Son of God choosing to humble Himself by becoming incarnate as a human, born in lowly circumstances to poor parents who couldn't find a room in an inn. And so the Son of God was born in a manger.
It turns out Jesus being born in a manger has another meaning other than signifying His humility.
Throughout the Old Testament, there are many prophecies about Jesus Christ. Some place the number of Messianic prophecies in the hundreds. Among the clearest and most striking presagings of Jesus are:
Isaiah 7:14: "Therefore the Lord himself will give you a sign: The virgin will be with child and will give birth to a son, and will call him Immanuel."
Psalm 22:16-18: "Dogs have surrounded me; a band of evil men has encircled me, they have pierced my hands and my feet. I can count all my bones; people stare and gloat over me. They divide my garments among them and cast lots for my clothing."
That the Son of God chose to be born in a manger is another augur or foretelling.
Do you know what the root or etymology of the English word "manger" is?
It's the Old French word mangoire or menjoere, the modern form of which is manger (pronounced "mon-jay" with a soft j).
According to the dictionary, the French word "manger" has two meanings:
As a noun, manger means "food."
As a verb, manger means "to eat."
And in John 6:48-58, Jesus makes the import of His being born in a manger unambiguous:
"I am the bread of life. [...] I am the living bread that came down from heaven; whoever eats this bread will live forever, and the bread that I will give is my flesh for the life of the world. [...] Amen, amen, I say to you, unless you eat the flesh of the Son of Man and drink his blood, you do not have life within you. Whoever eats my flesh and drinks my blood has eternal life, and I will raise him on the last day.  For my flesh is true food, and my blood is true drink. Whoever eats my flesh and drinks my blood remains in me and I in him. Just as the living Father sent me and I have life because of the Father, so also the one who feeds on me will have life because of me. This is the bread that came down from heaven. Unlike your ancestors who ate and still died, whoever eats this bread will live forever."
H/t FOTM's WildBillAlaska for the trompe l'oeil cartoon.
~Eowyn