I was truly shocked when I heard about the dirty politics that took place in the recent primary election in Mississippi.  I don't consider myself politically naive but I guess, in some respects, I am. I may no longer be a registered Republican, but I still look to that party to uphold and advance the conservative principles I hold true and believe must be followed if the Republic is to remain intact and I expect Republicans to maintain a higher standard. I was even more disturbed and disgusted by the negative and racially charged campaign ads Republican candidate Thad Cochran's super PAC put out against his main opponent Chris McDaniel who has been championed by the Tea Party.
Cochran's campaign ran ads on radio, TV, and in print which were distributed in heavily African American, Democrat communities encouraging Democrat voters to vote for Cochran and slandering McDaniel in the process. In Mississippi, Democrats and Republicans can cross over and vote in the other party's primary IF they haven't voted in their own primary already.
It has become increasingly apparent that without this dirty political move Cochran would have lost the Primary to McDaniel.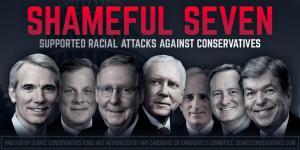 Now for the really greasy, grimy, dirt.  Republican Senators, one of which represents my state, were implicit in the funding and creation of these slanderous and racial ads.  They will certainly claim no part of it, but then lying seems to be second nature for too many in Washington DC.
According to the Americans for Legal Immigration website,
Seven Republican senators have now been linked to the racial attacks against conservative Chris McDaniel in Mississippi.
The financial report for Thad Cochran's super PAC was released earlier this week and contains two alarming details.
First, it shows that the following seven GOP senators gave a total of $160,000 to Thad Cochran's super PAC:
1. Mitch McConnell (R-KY) $50,000 (202) 224-2541
2. Bob Corker (R-TN) $30,000 (202) 224-3344
3. Rob Portman (R-OH) $25,000 (202) 224-3353
4. Orrin Hatch (R-UT) $25,000 (202) 224-5251
5. Richard Burr (R-NC) $20,000 (202) 224-3154
6. Roy Blunt (R-MO) $5,000 (202) 224-5721
7. Mike Crapo (R-ID) $5,000 (202) 224-6142
Second, it shows that the PAC then gave a similar amount to a liberal group to run racial attacks against Chris McDaniel.  These senators fully funded ads that urged Democrats to "cross over and vote in the republican primary" and claimed that a McDaniel win would be a loss "for race relationships between blacks and whites."  They also helped pay for fliers that said, "The Tea Party Intends to Prevent You From Voting" and suggested McDaniel would roll back civil rights.  And perhaps worst of all, they helped pay thousand of dollars to Democratic activists to do so called "canvasing" to turn out votes for Cochran.  These seven Republican senators not only supported a 41-year incumbent who regularly votes with the Democrats, but they also funded a shadowy group to get Democrats to hijack the election.
How can these Republicans expect conservative voters to support them when they do such treacherous things to people in their own party?
Senator Orrin Hatch (R) Utah, is one of my senators.  There was a time when I supported him and I admit I voted him back into office each time he has run with the exception of his last campaign when I realized he no longer exhibited the conservative principles or backbone I expected from the man I had voted for so many times before.
Some will say, "get over it, that's politics."  I guess you could say the same to Caesar about the Ides of March, but it wouldn't make the sting of being stabbed in the back any less painful.