Today I want to introduce you to Em of Emitate. I discovered Em recently when she won a giveaway I did.  I popped over to her link to notify her, and came face to computer screen with a kick ass chair redo.  I asked her if she would mind me sharing it with you, and she was sweet enough to comply.  So here it is in all its quilted amazingness...

I had been looking for chairs for my living room and found this one last fall on Craigslist for $25. When I got it I had no idea how or when it would get recovered. It was workable in my living room because the color was weird enough to fit in with my green walls and it was clean and in good shape.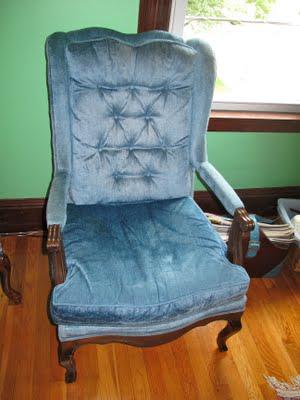 While on a trip in March to visit my Mom (an interior designer and upholsterer extraordinaire), we were discussing ideas for my freshly green living room. I loved the green but it's not your everyday living room color and I wasn't sure where to go next. She had been pushing me to look at her Kaffe Fassett books for years, but knowing he was quilts and cross stitching I blew her off. This time, however, I looked and what I saw blew my mind. It was like he went into my head and saw everything I wanted but couldn't realize. We decided on one of his multi colored striped quilting fabrics for my chair. I had to wait until my Mom's visit in June to get it recovered.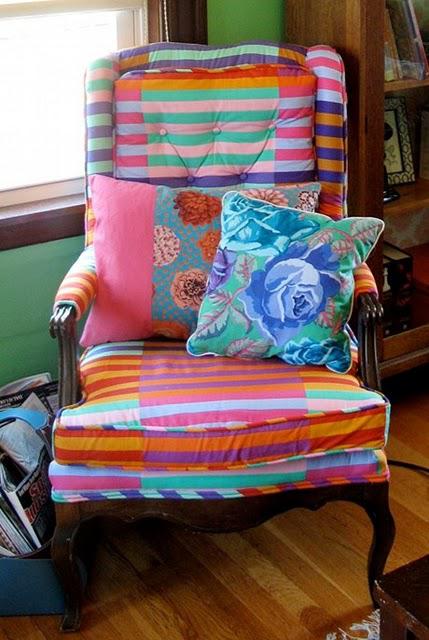 I have to admit , the longer I looked at this fabric hanging out...waiting to be stapled to a chair, the more nervous I became about how it would turn out. I was even more nervous about how my husband would react. Turns out we both love it. Shockingly, I think he loves it even more than I do. This is our first house and I have loved decorating it and figuring out my style. This chair not only helped further establish my style (basically COLOR!!) it has also helped give me confidence to trust my instincts and experiment.






Thanks, Danika! I am really excited. Thank you for asking me to be a part of the series!
You are welcome Em! And did you see the other chair?  Her amazing Mom upholstered that one too. Check the before and after on that...
Love the color.
Great job Em (and your Mom)! I am loving the quilted fabric and how it makes such a bold and fresh transformation.
Be sure to visit Em's blog  or check out her new Etsy shop.  She designs jewelry and is a girl with a big heart. Behind every blogger is real life and their own story.  Her cousin's husband is battling luekemia and is the father of four children.  To help them out,  100% of her "Jewelry for Joey" design proceeds go to help his fight, as well as 50% of her other designs. To read more and see how you can help please go here. 
Thanks again Em, and wishing the best for your cousin and family!