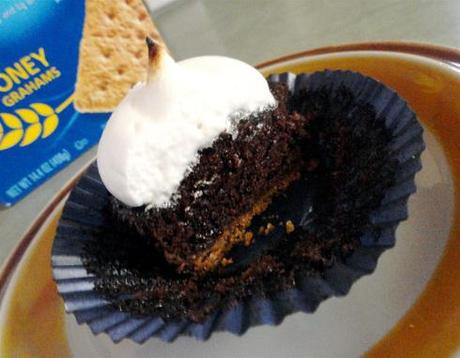 Growing up, I didn't eat S'mores very often. In fact, I don't have a single memory of my family enjoying the snack. My dad had an aversion to chocolate, and we didn't like playing with fire. So when I think of early memories of S'mores, I think of 5th grade. 
What I remember is summer camp with my best friends. We held as many graham cracker sandwiches we could carry and walked towards the blazing campfire. I stuck my marshmallows on a crooked stick and watched as they turned from white to gold to dark brown. My delight must have been palpable because my friend turned to me and said, "Haven't you ever made S'mores before?"
No. Most certainly not. How could this have happened? I thought, as I took my first gloriously messy bite.
In the years to come, I made S'mores again and again.
Around a campfire in  damp East Texas woods.
On a grill at a backyard church barbecue. 


On the beach, with sand in my toes and hair.


Even in the microwave (Ryan can attest to the pleasure of watching a marshmallow swell in the heat of those invisible waves).
But every time I made S'mores, no matter where I was, I had two things: the S'mores (of course) and friends.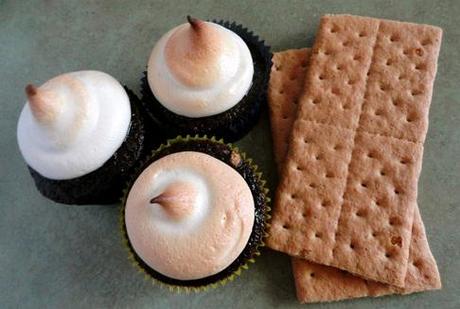 Food and memory are wedded together. I share food and I share stories.
When I eat a slice of apple pie, I think of all the times I've sat with my family, each of us scooping pastry, apple and melted ice cream into our mouths.
When I eat sushi, I remember my first date with Ryan. We shared a sushi roll and then ended up sharing our lives (cheesy, but true). 
And so when I eat S'mores, I think of friends. I think of being a 9 year old girl with my two best gal pals at my side. I think of nights in high school where my friends and I stuffed our stomachs full of the sandwiches because how can you say "No" to one more S'more? And now I think of the 4th of July sitting with my new friends in Austin, sharing S'mores and stories and songs.
S'mores remind me of friendship. We all need more friends, I think. I realized this when life got hard.
I made these cupcakes to honor this friendship treat. A thin layer of graham cracker is pressed into the bottom of each cupcake, the chocolate batter is poured on top, and then once cooled, the cupcakes are covered with a thick marshmallow frosting that is then browned with a kitchen torch (or a broiler, if like me, you're too poor to buy your own torch).
Yes, these do sound like

involved

cupcakes. They take more time than most. But if you want to make someone smile, these will do the trick. They taste even better than they look!
But then again, a sure fire way to bring a smile to someone's face requires no more than a graham cracker, a marshmallow and a bar of chocolate. We've all been making these sandwiches for years, and yet they still seem special. Maybe it's because we

all

associate S'mores with friends and family. Rarely do you eat these treats in solitude. Campfires and barbecues mean people, mean laughter, mean love.


When Hershey asked me to be part of their S'mores campaign, I was thrilled. When they asked me to throw a party with friends, I thought, of course. This post is part of my participation in the Hershey's S'mores campaign, but all opinions here are mine. We shared a huge meal, a beautiful pie and then a hefty helping of S'mores. I hope you enjoy the pictures. Please forgive the poor quality, my camera was malfunctioning on the fourth.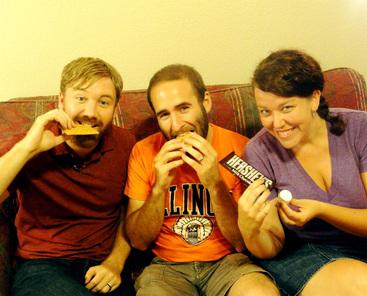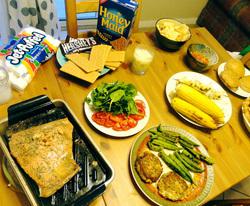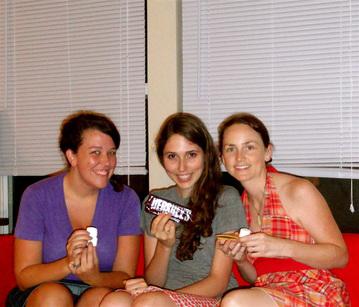 This summer, the Hershey Company is encouraging families to create their own S'mores memories with the Say S'mores campaign. Starting June 16, families are invited to capture and share their favorite S'mores moments on the Hershey's brand Facebook page at http://www.facebook.com/hersheys for a chance to win S'mores-themed prizes.  The grand-prize is a Canon Rebel Camera, slate marble outdoor firebowl, $250 SnapFish gift card, roasting skewers set and all of the ingredients needed to make S'mores, including Hershey'sMilk Chocolate bars. Families who visit the Hershey's brand Facebook page on or after June 15 can download the Say S'mores application to participate in monthly photo contests and receive a $1 coupon good toward the purchase of any two Hershey's Milk Chocolate bar 6-packs.


Also...Hershey's has generously offered to giveaway a S'mores prize pack to one of my readers with everything you need to create your own S'mores memories. Please leave a comment, and I'll draw a winner on Tuesday afternoon.


So whether you decide to make these cupcakes or buy a package of graham crackers, marshmallows and Hershey Chocolate, enjoy these sweets with those you love. I say this again and again because the saying is true: Life is too short not to enjoy the ones you love.


S'mores Cupcakes




*Adapted from Lovin from the Oven


2 cups plus 2 tablespoons sugar
1 3/4 cups all-purpose flour
3/4 cup plus 1 tablespoon cocoa powder (not Dutch-processed)
1 1/2 teaspoons baking powder
1 1/2 teaspoons baking soda
1 teaspoon salt
2 large eggs
1 cup whole milk
1/2 cup vegetable oil
2 teaspoons pure vanilla extract
1 cup boiling water
1 1/2 cups graham cracker crumbs (from about 20 squares)
1/4 cup sugar
1/3 cup unsalted butter, melted
9 ounces bittersweet chocolate, finely chopped
Marshmallow Frosting (See recipe below)
1. Preheat your oven to 350 degrees Fahrenheit. Line 2 standard muffin tins with cupcake liners, spray lightly with cooking oil and set aside.
2. Sift  2 cups of sugar, flour, cocoa powder, baking powder, baking soda, and salt together into the bowl of an electric mixer. Using the paddle attachment, mix ingredients together on low speed.
3. In a large bowl, mix together eggs, milk, oil, and vanilla. Add to flour mixture and beat on medium speed for 30 seconds. Scrape down sides of bowl and continue mixing on medium speed for 2 minutes. Add boiling water and stir to combine. The batter will look like soup. Don't worry, you're just fine. Set cake batter aside.
4. Place graham cracker crumbs, remaining 1/4 cup sugar, and melted butter in a large bowl; stir until well combined.
5 Place 1 tablespoon graham cracker mixture into the bottom of each prepared muffin cup. Use the bottom of a small glass to pack crumbs into the bottom of each cupcake liner. I found a spice jar to be perfect. Reserve remaining graham cracker mixture for topping.
3. Place 2 teaspoons chocolate in each muffin cup. Transfer muffin tins to oven and bake until the edges of the graham cracker mixture is golden, about 5 minutes. Remove from oven and fill each muffin cup three-quarters full with cake batter. Sprinkle each with remaining chocolate and graham cracker mixture. Return to oven and bake, rotating pans halfway through baking, until tops are firm and a cake tester inserted in the center comes out clean, 18 to 20 minutes.


4.

Transfer muffin tins to a wire rack and let cupcakes cool in pan for 10 minutes. Remove cupcakes from pan and let cool completely.
Transfer frosting to a large pastry bag fitted with a large plain round or French tip (such as Ateco #867 or Ateco #809). Pipe frosting in a spiral motion on each cupcake. Transfer cupcakes to a baking sheet.


5.

Using a kitchen torch, lightly brown the frosting, taking care not to burn the cupcake liners Alternately, stick your cupcakes on a baking sheet and broil for 1-5 minutes, watching very closely. Serve as soon as possible.
Marshmallow Frosting
8 large egg whites
2 cups sugar
1/2 teaspoon cream of tartar
2 teaspoons pure vanilla extract
1.Place egg whites, sugar, and cream of tartar in the heatproof bowl of an electric mixer. Set over a saucepan with simmering water. Whisk constantly until sugar is dissolved and whites are warm to the touch, 3 to 4 minutes.
2. Transfer bowl to electric mixer fitted with the whisk attachment, and beat, starting on low speed, gradually increasing to high, until stiff, glossy peaks form, 5 to 7 minutes. Add vanilla, and mix until combined. Use immediately.


Always,




Monet




Anecdotes and Apple Cores