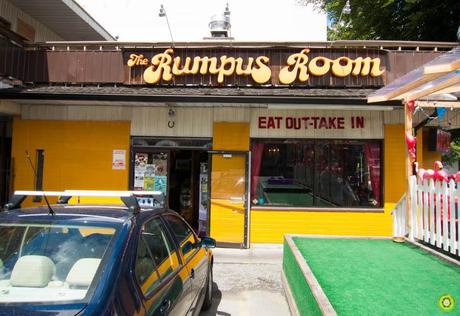 By definition, rumpus means "a commotion." Well, it's no doubt that the Rumpus Room caused a commotion in the foodie world when it was featured in Food Network's You Gotta Eat Here! Its interesting menu pushes all limits, including the elasticity of my sweatpants. EatingWithKirby and the Food Queen may have also gained a pound or two after this meal, but I didn't ask for a precise number because I'm a true gentlemen.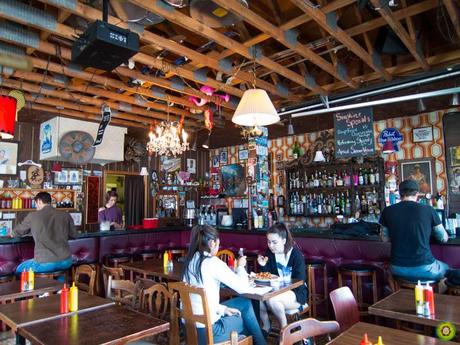 The restaurant interior definitely does justice to its name. There's knick-knacks everywhere – from the coffee tables to the ceiling. Wait – is that a street sign for E 11th Avenue?!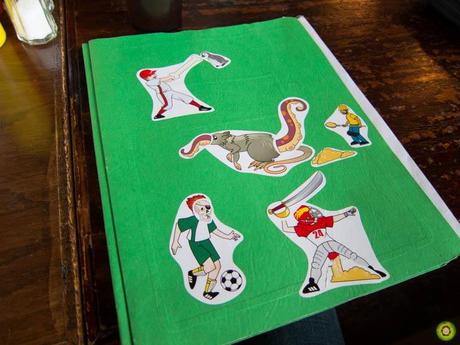 Man, I haven't touched a duo-tang since elementary school! It's a good thing that this one was filled with menu pages, not homework.
At first, the menu seemed innocent and playful. Take another look closer and you'll see:
Baseball player brutally beating a cute penguin with a bone
Octo-rat taking a dump that a construction worker must shovel
Football-loving pirate having violent diarrhea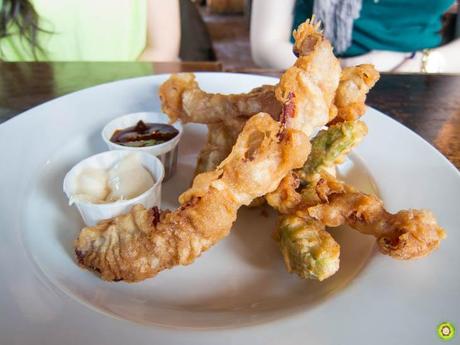 What's a better way to start a meal than having a plate of Deep Fried Bacon & Avocado ($9.5). The tempura-batted strips of fat and protein were deep-fried to absolute perfection! Dip it in some house aioli and hot sauce… heaven's closer to Earth than first thought. Surprisingly, the dish was not greasy at all!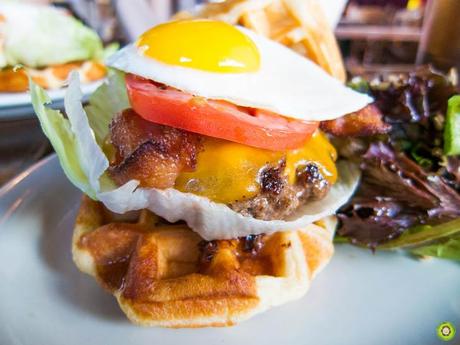 Freshly made waffles are the perfect brunch items. So are beef patties. And bacon. And fried eggs. Good thing that the Rumpus Room just so happens to have the Breakfast Waffle Burger ($14) that includes all of the above plus cheddar, lettuce and tomato.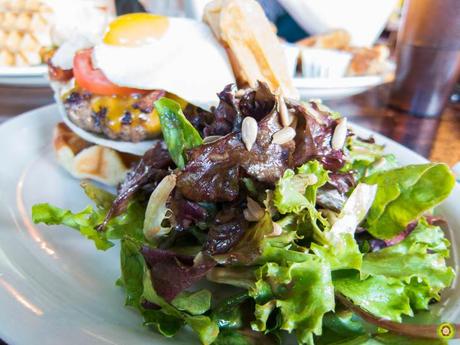 It's originally served with breakfast potatoes, but I opted for a salad.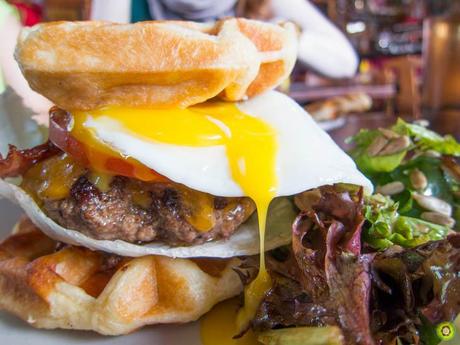 OMG, I didn't think I could enjoy a waffle burger that much! The hormone-free beef patty was really moist and flavourful. Yet, my favorite part was the waffle! The sweetness from the pearl sugar paired with the savouriness of everything else made the most delectable combination! Definitely one of the best burgers I've had!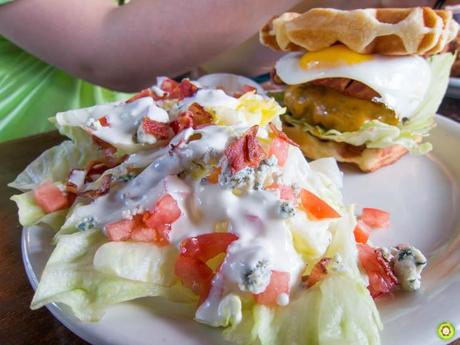 Kirby ordered the same burger as me, but with a Wedge Salad as her side. She sorta regretted it since it was adorned with bacon bits and blue cheese and slathered in ranch dressing. Quite heavy, especially when served with a waffle burger.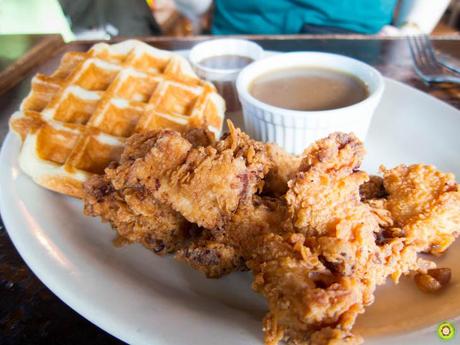 The Food Queen ordered Chicken & Waffles ($12): free range chicken breast, marinated in buttermilk, battered and deep fried. It's served with two fresh waffles, gravy and maple syrup.
Granted, the Food Queen enjoyed her dish, but the portion size was laughable.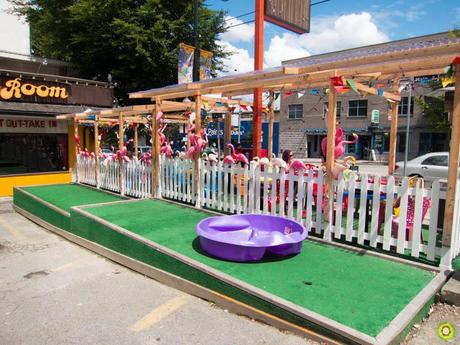 There's also a funky dunky outdoor patio that's lined with flamingos!
Final Bytes
There's a bunch of board games to play!
Killer waffle burger!
The place was quite dirty… found one hair inside my napkin and another on the table. At least it wasn't in my food :P
Foodobyte's Rating

---