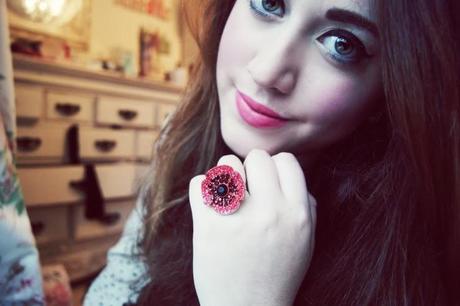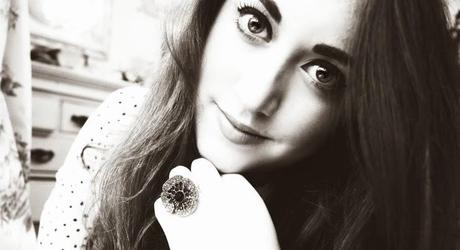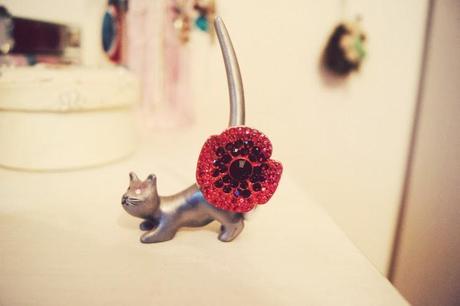 Ring: c/o Jon Richard
Most years, in aid of supporting and remembering the British armed forces, i'll pop a little donation in a box to someone (likely in Tesco's), pick out the best looking poppy, grab a pin, and then inevitably stab myself a few times trying to put it on my top (once i've spent a while deciding where it will look best, and be at least risk of my clumsy self knocking it off). Fortunately, this year, the clever and creative bunch at Jon Richard have designed a beautiful ring, so that us fashion addicts, jewelry lovers, and darn right clumsy people can pay our respects in a slightly sparklier, less 'pin stabbing' way. Phew. 
I honestly never expected it to be such a gorgeous ring. Embedded with ruby coloured crystals, and a jet crystal at the centre, it really is a statement piece which I can see myself wearing all year round. Oh, and the band is also adjustable so if you're blessed with chubby little fingers like myself, you won't have to worry about it not fitting you! Bonus.
Okay ladies, so not only is this a lovely little treat for yourselves, but it also pays your respects and a generous £3.60 of the £12 retail price goes to charity! Think how much difference your £3.60 will make, rather than your 20p or so last year! Never mind the fact how pretty your hands will look. It's now available for you all, so head down to your local Debenhams to pick up your lovely gift boxed ring, or click here to go directly to the Jon Richards site itself. 
Perhaps some of you have already bought one? If not, let me know when you do! ;) xxx
P.S What do we all think of the new blog layout? Sorry all the links are not quite working yet. I'm a nightmare with HTML codes!