Today I am feeling random, maybe it was the short work week, or the fact that I can't wait for the weekend to begin, but I can't seem to focus on one thing today.
 I am all over the map, and so is this round up, I hope you enjoy it :)
1. 

Dannijo Pete Earrings: 

Oh Flamingo Pete I love you, and I love these earrings. I am bordering on obsessive with my love for this jewelry line. Available from Shopbop, there's a large stash right now, including SALE items! I repeat, SALE!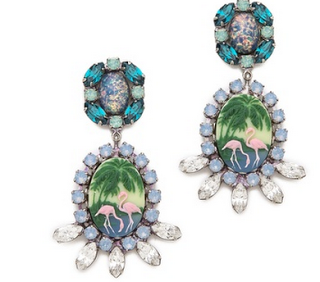 2.
NARS lipstick – speaking of obsessed, I have fallen truly madly and deeply in love with these NARS satin lip pencils. For those of us who can't apply lipstick properly (I'm not the only one, right?) these are the solution!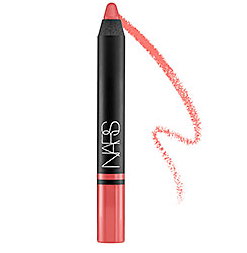 "Lodhi" is my go-to shade. It seems to go with everything I'm wearing, and really brightens up my complexion. A bit of bronzer + this lip stick and I am fresh faced and ready to go. You can find it at any Sephora store or online. 
Even more amazing, their Velvet Matte LipPencil (if you're into Matte, which you should be!)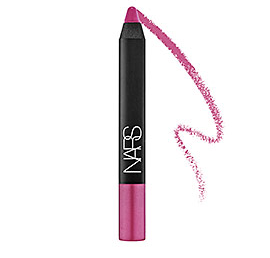 "Never Say Never – Lilac Rose" is definitely the next one I'm trying out. It looks like the perfect summer shade.
3. Last night I visited Anthropologie  for a little summer fashion show. Their current collection is really romantic, filled with lace, floral patterns, cute girly rompers, lots of open backs and cut out shapes and even some light weight summer leather. I am pretty obsessed with

this skirt

. It will be the perfect addition to my summer wardrobe, and I would style it similar to the photo below with a thin cotton cami, OR even with a chambray shirt tucked in, even a plain white racer back tank would work.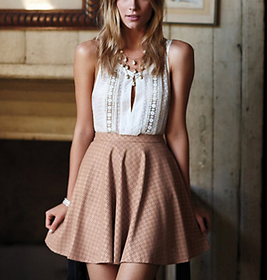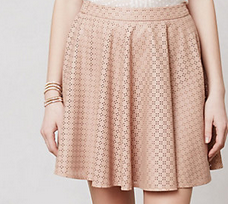 Anthropologie Swing Skirt . Ohhh, and I could pair those fantastic flamingo earrings with this look!
Wishing everyone a perfect weekend, I will be partying it-up with one of my very best friends' to celebrate her last few weeks of the single life. Yes that's right, its bachelorette time, woohoo! I just love girl's weekends!